The NBA is full of talent, personality and suspense. During the offseason, It's easy to forget how wonderful the league can be. So, I've assembled 67 Reasons I'm Excited For Next Season (67RIEFNS). They'll be presented in no particular order.
The Grizzlies belong in the 90s.
Their style better fits an era when the they didn't yet exist, or at least weren't relevant.
They've ranked last in pace the last two years while playing for two different coaches. They've also ranked last in 3-point-attempt rate four of the last five seasons, placing 28th the other year. They walk the ball up court and then bully teams inside.
Memphis' throwback ways are not stubbornness. They're a necessary plan given the team's two best players, Zach Randolph and Marc Gasol.
Randolph and Gasol have combined to make 36 3-pointers in their five years together, nearly half them coming that first year from Randolph. They each dunk a little more than once per game.
They're not the archetypical sweet-shooting, high-flying duo.
They plod and grind, wearing teams into submission through brute force. At the same time, they play very intelligently – creating a combination that's difficult to handle.
Randolph's footwork in the post is second to none. Both are savvy passers for their size, and both understand defensive positioning, though Gasol performs both tasks better.
They're physical players, but make no mistake, both are extremely skilled.
And the results have been tremendous. The Grizzlies have performed better each season when Randolph and Gasol (dark blue) share the court than overall (light blue):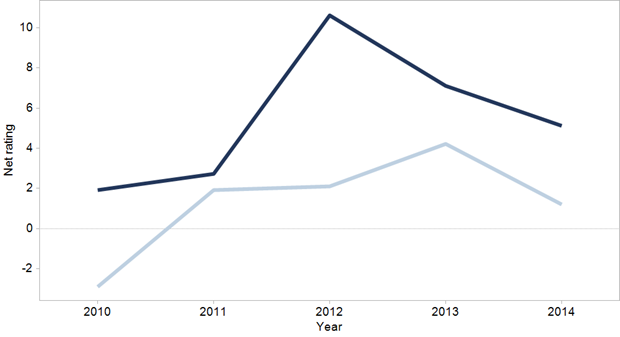 However, that graph doesn't only show the Randolph-Gasol advantage. It shows a pairing that grew elite together and is now declining.
Gasol turns 30 this season. Randolph is 33. They won't be washed up after this year, but their run of success is closer to its end than its beginning.
And there's no guarantee it even continues beyond this season. Gasol will be a free agent next summer, and he'll certainly have lucrative offers to leave Memphis. He says he wants to stay, but free agency can be unpredictable.
Just in case, enjoy Gasol and Randolph together, maybe for the last time.