Kevin Durant fractured his foot and is expected to miss six to eight weeks.
The injury weakens the Thunder's chances of securing home-court advantage, and therefore, competing for a a championship.
What does it mean for Durant's chances of defending his Most Valuable Player award?
Based on the Thunder's schedule, Durant is expected to miss 15-20 games. Only Bill Walton, who missed 24 games and won MVP in 1978, claimed the award while sitting so much.
Here's the percentage of his team's games every MVP has played in blue. The orange bar represents Durant's expected percentage, from the high-end to the low-end of his diagnosis. Click to enlarge.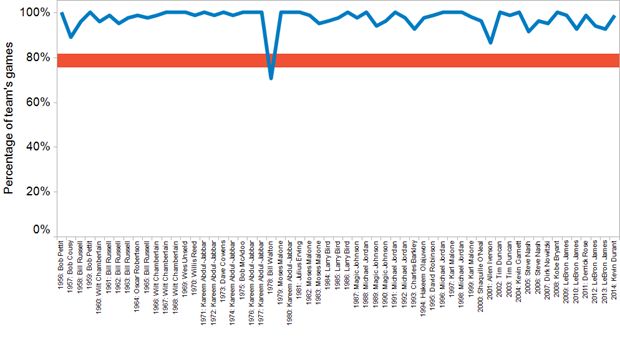 Walton benefitted from Kareem Abdul-Jabbar, who'd won the previous two MVPs, also missing 20 games. Durant's best shot is LeBron James also getting hurt and missing a significant period of time.
Even then, nothing would be guaranteed for Durant. It's unsafe to assume he'll perform at an elite level immediately after returning to the court. As Durant knows, Anthony Davis is ready to ascend to the game's highest levels.
I'm sure Durant would say getting fully healthy in time to lead the Thunder in the playoffs is most important to him, but he's also acknowledged he cares about the individual accolades. Unfortunately for him, 2014-15 MVP is probably already off the table.