The new national TV contracts will reportedly pay $24 billion over nine years.
That is game-changing money.
The rules as we know them are all on the table, owners and players interested in modifying the system.
So, it's more difficult than ever to predict future salary caps and what they'll mean.
Maybe the cap gets smoothed. Maybe max salaries are eliminated. Maybe… anything.
The NBA and players could drastically re-write the cap rules at any point between now and the impending 2017 lockout/strike. The current Collective Bargaining Agreement was written before the league was so flush, so now, essentially everything could change.
But based on the system as we know it…
The salary cap is determined by the NBA's Basketball Related Income (BRI), which includes national TV money and other revenue.
The current national TV contracts reportedly pay $930 million per season. For these purposes, I assume that's an exact amount each season.
Of the $24 billion coming in the new national TV contracts, the NBA is slated to receive $2.1 billion the first year and $3.1 billion the last year, according to Zach Lowe of Grantland. As far as those middle seven years, I use straight $125 million annual increases to bridge the gap between $2.1 billion and $3.1 billion. That still leaves us $600 million short of the contract's total value, so that $600 million was applied equally across the deal's middle seven years.
What about other revenue?
If the current national TV contracts pay a constant $930 million, the NBA – based on its current salary cap and projected 2015-16 salary cap – is predicting a 6.6% increase in other revenue from this season to next. I apply that 6.6% growth in non-national-TV revenue for each future season. Maybe that's too low – the increase from last season to this season was 9.8%, and the league's early cap projections tend to be conservative – but I have little data on the NBA's revenue streams, and I'm using 6.6%.
Here's what all that would mean for the salary cap –a with this and past season's actual cap, the NBA's projection for 2015-16 and my projections for future seasons. Years under the current national TV contract are blue, future national TV contracts orange.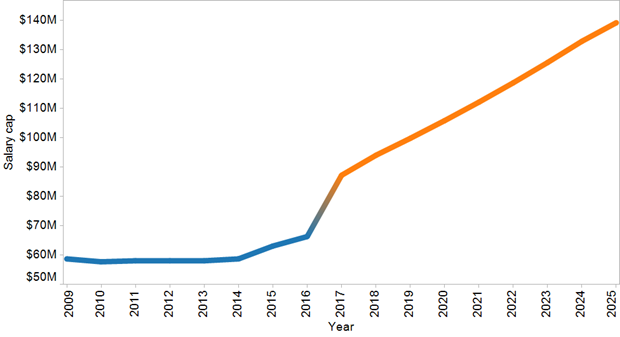 2009: $58,680,000
2010: $57,700,000
2011: $58,044,000
2012: $58,044,000
2013: $58,044,000
2014: $58,679,000
2015: $63,065,000
2016: $66,300,000
2017: $87,196,327
2018: $94,013,221
2019: $99,793,454
2020: $105,831,199
2021: $112,143,389
2022: $118,748,073
2023: $125,664,483
2024: $132,913,117
2025: $139,237,538
Obviously, the further into the future we project, the less reliable the prediction. And remember, these are rough estimates of a system that could destruct any moment after Michele Roberts settles into her role as National Basketball Players Association executive director.
Until then, these are baseline estimates for what lies ahead.