The NBA is full of talent, personality and suspense. During the offseason, It's easy to forget how wonderful the league can be. So, I've assembled 67 Reasons I'm Excited For Next Season (67RIEFNS). They'll be presented in no particular order.
Giannis Antetokounmpo is excited about playing point guard.
Me too, Giannis. Me too.
Jason Kidd plans to use the 6-foot-11 Antetokounmpo as a point guard, and the Bucks coach makes clear he means point guard, not point forward. Milwaukee is going full-speed ahead with this experiment.
And it should be great.
Basketball can't compete with fat-guy touchdowns, but big men running point might the closest equivalent. Antetokounmpo isn't DeAndre Jordan – the Greek Freak is much more skilled with the ball in his hands – but his fit at point guard still has potential for comically awkward moments.
Many of them might embarrass Antetokounmpo's opponents more than anyone.
If Antetokounmpo starts, he'll be five inches taller than the next-tallest starting point guard (6-foot-6 Michael Carter-Williams) and at least seven inches taller than ever other starting point guard: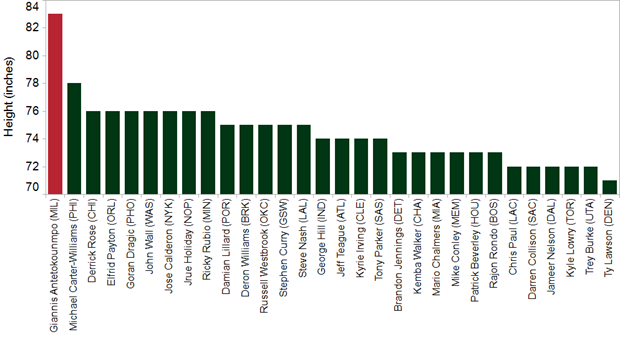 Can you imagine Ty Lawson guarding Antetokounmpo? Opponents will have to deal with one big matchup problem or cross assignments and handle several smaller ones.
It'll be on Antetokounmpo to take advantage or find the teammate who can.
Antetokounmpo is extremely skilled, but the 19-year-old is still very raw. Playing point guard will give him great opportunities to develop, as he'll be asked to do much more than he would at any other position.
Sometimes, that will expose Antetokounmpo's weaknesses.
Other times, it will be really, really great.