A new roster and the presence of LeBron James and Kevin Love isn't all that will be new about the Cleveland Cavaliers when they kick off their season against the New York Knicks on October 30. The team has unveiled a new navy blue alternate jersey that will also debut that night, to go with their home whites, road reds, and gold alternates.
The new uniform combines the wine-and-gold color scheme of their normal jerseys (in the lettering) with a nod to the navy road jerseys that were a staple of James' first stint in Cleveland. Check out the new design below: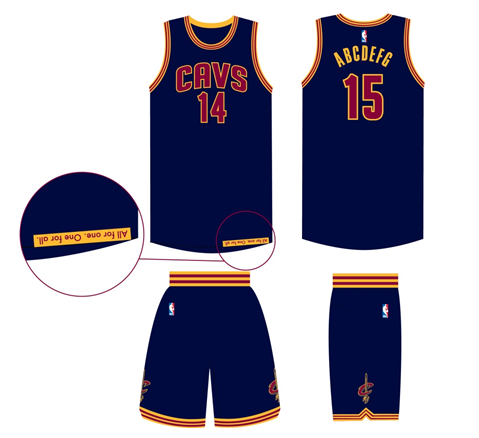 The jerseys feature a small, upside-down "All for one. One for all." inscription at the bottom of the front, which the team says will make it a "readable inspiration" for players.
Like the Cavs' other current jersey offerings, this one looks sharp, simple and classy with a color scheme that works. Hopefully, James' return will also signal the return of the many throwback jerseys the team wore in his last few seasons there before leaving for Miami in 2010.