The NBA is full of talent, personality and suspense. During the doldrums of the offseason, It's easy to forget how wonderful the league can be. So, I've assembled 67 Reasons I'm Excited For Next Season (67RIEFNS). They'll be presented in no particular order.
Bob Myers' hard work paid off.
The Warriors general manager's painstaking pursuit of Andre Iguodala included convincing Iguodala to sign while simultaneously clearing the necessary the cap space – and it worked.
The result? Iguodala turned the Warriors' starting lineup into one of the NBA's most effective and complete units.
Stephen Curry, Klay Thompson, Iguodala, David Lee and Andrew Bogut dominated last season.
Of the NBA's 30 most-used lineups, none had a better net rating than the Warriors' starters, who outscored opponents by 15.4 points per 100 possessions.
And they did it by dominating both ends. Their offensive rating (112.4) and defensive rating (97.0) would have both led the NBA.
Here's how the league's 30 most-used lineups stacked up offensively and defensively. (Click here for an interactive version where you can mouse over each logo to see players and exact offensive and defensive ratings.)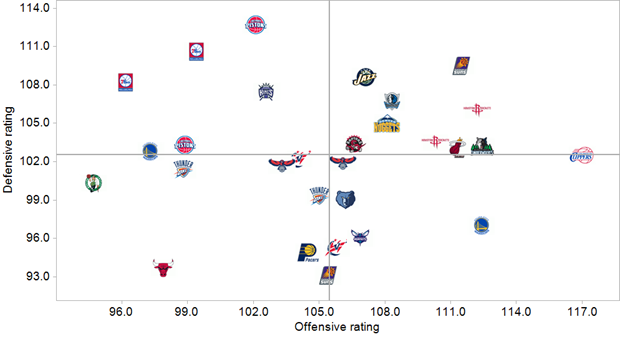 Bottom right: above average offensively, above average defensively
Top right: above average offensively, below average defensively
Bottom left: below average offensively, above average defensively
Top left: below average offensively, below average defensively
Peerless far into the bottom right, that's the Warriors' starters.
Within the 30 most-used lineups, only two were better offensively – one on the Clippers (Chris Paul, Darren Collison, Matt Barnes, Blake Griffin and DeAndre Jordan) and one on the Timberwolves (Ricky Rubio, Kevin Martin, Corey Brewer, Kevin Love and Nikola Pekovic). With Collison on the Kings and Love on the Cavaliers, neither lineup will be around this season.
Likewise, the only better defensive lineups – the Suns' Eric Bledsoe, Goran Dragic, P.J. Tucker, Channing Frye and Miles Plumelee; the Bulls' Kirk Hinrich, Jimmy Butler, Mike Dunleavy, Carlos Boozer and Joakim Noah; the Pacers' George Hill, Lance Stephenson, Paul George, David West and Roy Hibbert; the Wizards' John Wall, Bradley Beal, Trevor Ariza, Nene and Marcin Gortat; and Charlotte's Kemba Walker, Gerald Henderson, Michael Kidd-Gilchrist, Josh McRoberts and Al Jefferson – have broken up with Frye in Orlando, Boozer in Los Angeles, Stephenson in Charlotte, Ariza in Houston and McRoberts in Miami.
Yet, the Warriors' top lineup remains.
Between Curry, Thompson, Iguodala, Lee and Bogut, it's difficult to find a skill left uncovered.
Curry and Thompson bomb away from beyond the arc. Lee scores inside. Curry and Iguodala keep the ball moving. Lee and Bogut clean the glass. Bogut protects the rim. Iguodala and Thompson defend perimeter.
The puzzle pieces fit seamlessly.
Steve Kerr, please don't mess with this lineup. It's basketball bliss.