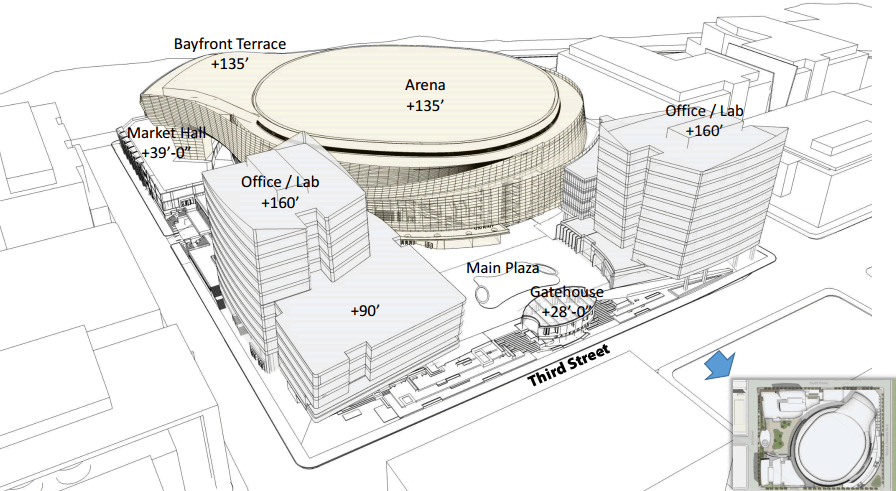 There is certainly a resemblance.
When the first renderings of the Warriors new arena in the Mission Bay district hit the Internet on Tuesday, the jokes came immediately flooding in right along with them. That's because it's difficult to argue that, at least in these very preliminary drawings, the arena doesn't look like a giant toilet.
[There's a Splash Brothers joke in there somewhere that I'm just not willing to make.]
That was obviously troublesome news to the Warriors, who emphasized that things will look much different once the plans are finalized.
From Diamond Leung of Bay Area News Group:
The comparison of the preliminary design of the Warriors' new arena in San Francisco to a toilet seat is "unfortunate" because it does not reflect the final result, a team spokesman said Wednesday. …

Warriors spokesman PJ Johnston said the design for the arena that replaces Oracle Arena as the team's home will "absolutely" change in the coming months, emphasizing that the drawings created by MANICA Architecture were not detailed renderings.

"I guess that's the perils of the Internet," Johnston said of the reaction to the drawings, adding that they were created to offer citizens information on the height, bulk and context of the arena.
We'll take the team's word for it that this isn't an accurate portrayal, but even if it was, you can pretty much guarantee that after this initial wave of criticism, the appropriate changes will be made.
[via Yahoo's BDL]