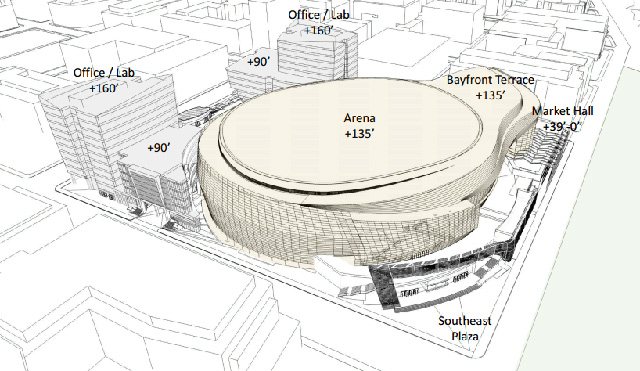 It's early. These are very preliminary drawings of an evolving project. We need to be fair here.
The Golden State Warriors were much farther along with much fancier, prettier designs of their plans for a new area on the waterfront in San Francisco before they abandoned those plans due to both the rising cost and rising opposition to said plans (building on the waterfront in California is brutally hard).
So the Warriors moved their plans to move the team into San Francisco inland to a 12-acre site in the Mission Bay district where they could build not only a new, state-of-the-art arena but also some office and retail spaces (which are bigger money makers per square foot).
SFist.com got ahold of the new arena drawingss from Snohetta (via Socketsite) and, from the air, well… that looks like a toilet. There's just no getting around it. Now, to be fair, who is going to see it from that angle? Pilots and… god? They both have other things on their mind. Plus these are early drawings just to show to the Citizens Advisory Committee there to generate feedback, making way for changes. It will look different when done.
The drawings of the ground level do make it look better.

But from above…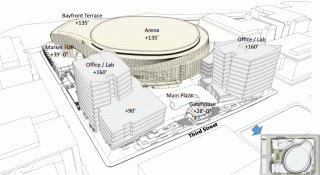 I can't wait for the overhead shots of games at the new arena. But it's early in the design, maybe they can make some changes.