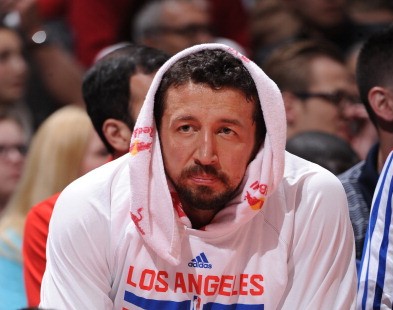 The Clippers announced the re-signing of Hedo Turkoglu on Friday, a move that was expected but has now been made official.
Turkoglu was signed to a one-year veteran's minimum deal, and the Clippers roster is now at 14 players with guaranteed contracts for next season.
From Arash Markazi of ESPN Los Angeles:
"We are happy to welcome Hedo back to the Clippers," Clippers president of basketball operations and head coach Doc Rivers said. "Hedo is a versatile, veteran presence who contributed to the championship culture we are building in Los Angeles."

Turkoglu, 35, appeared in 38 games for the Clippers last season after being signed on January 10. He averaged 3.0 points and 2.3 rebounds in 10.3 minutes per game.
As we discussed at the time of the initial report, this was more about keeping a veteran presence in the locker room than it was about ensuring a certain level of on-court production.
With the Clippers adding Spencer Hawes and Ekpe Udoh this offseason, Turkoglu should see even less playing time if everyone stays healthy.