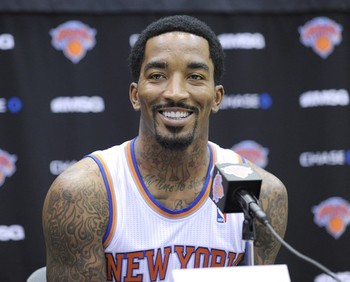 J.R. Smith was fined $50,000 by the NBA last season, after he untied an opponent's shoelaces on three separate occasions.
The first went unnoticed; the second got him a warning from the league office. But Smith couldn't help himself, and went for it a third time — which was likely the reason for the fine being so steep.
But Smith likes to have fun out there, so much so that he says he'd continue to do things like that if there weren't any fines associated with the behavior.
From Jared Zwerling of Bleacher Report:
B/R: What do you think is the biggest misconception about you?

JRS: People think I'm just some wild child, that I'm just somebody that bugs out all the time and doesn't care. That's the main thing that pisses me off the most. People who actually take the time to come [to my golf tournament] and get to know me, they know what I'm about. But some people don't really care to come.

B/R: Do you think that stems from your occasional antics, like when you got fined last season for untying your opponents' shoelaces?

JRS: I do care about the fines because it's loss of money, but other than that, I like to have fun. I would do [the shoelace thing] again if there wasn't a fine. But now that I'm in my 10th year in the NBA, I take the game more seriously than I did my first five, six years.
The problem here isn't Smith doing something like this occasionally, because basketball is entertainment above all else. But when your team is 12-22 in the standings, perhaps the focus should be on winning games, as opposed to coming up with silly on-court antics.