No Blake Griffin.
No Kevin Love.
And now no Paul George.
Team USA has definitely lost significant talent since releasing its initial World Cup player pool.
Still, the team's star power remains unprecedented.
There's no perfect measurement for star power, but All-NBA selection is as good as any. Team USA still has two All-NBA first teamers (Kevin Durant and James Harden), a second teamer (Stephen Curry) and a third teamer (Damian Lillard).
Sure, Griffin and Love, both second teamers, and George, a third teamer, will be missed. But a lot of talent remains.
Remember, this is not an Olympic year, when Team USA draws its biggest stars. The American World Cup roster compares very favorably to past editions for the event (nee the World Championships).
Here's how many All-NBA players from the year prior made the Team USA World Cup/World Championships roster since NBA players began competing in 1994. First teamers are red, second teamers blue and third teamers white.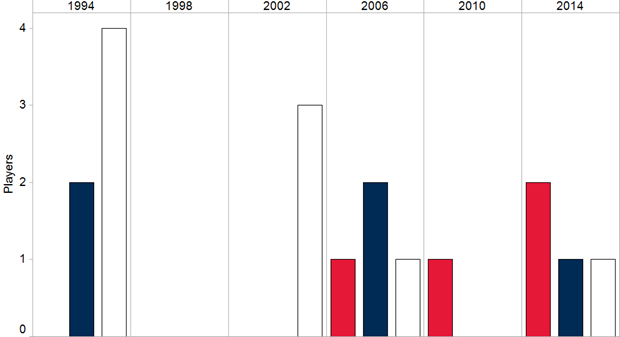 2014
Kevin Durant (first)
James Harden (first)
Stephen Curry (second)
Damian Lillard (third)
2010
2006
LeBron James (first)
Elton Brand (second)
Dwyane Wade (second)
Carmelo Anthony (third)
2002
Jermaine O'Neal (third)
Paul Pierce (third)
Ben Wallace (third)
1998
None (NBA players, anticipating a lockout, elected not to participate.)
1994
Kevin Johnson (second)
Shawn Kemp (second)
Derrick Coleman (third)
Shaquille O'Neal (third)
Mark Price (third)
Dominique Wilkins (third)
So how should we compare seasons? I use a simple scoring system that follows All-NBA voting – five points for first team, three points for second team and one point for third team.
With 14 points, the 2014 class leads.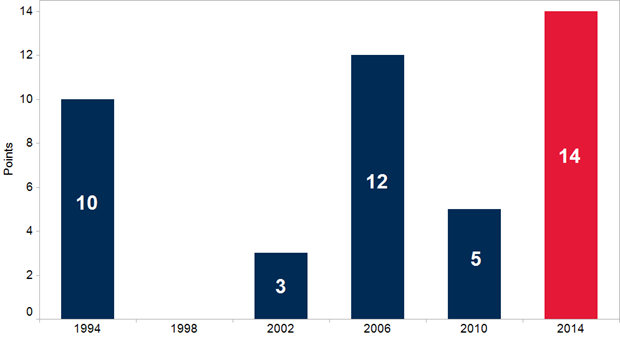 Of course, Jerry Colangelo hasn't made his final cuts. I'm counting Lillard, and he might not even make the team. After all, with Curry, Derrick Rose, Kyrie Irving and John Wall, the Americans are absolutely stacked.
Which is the point.