LeBron James changed teams as a free agent in 2010 and 2014, and for something dozens of NBA players do ever year, his two moves were treated very differently.
He was vilified for The Decision, leaving Cleveland for Miami in 2010. In 2014, his Sports Illustrated letter went over extremely well.
Now, we have some numbers to support that perception.
LeBron has an E-Score of 80, double his low of 40 in July 2011, according to Darren Rovell of ESPN.
How does E-Score work? Rovell:
The company takes the opinions of 1,100 people, ages 13 and up that reflect a representative sampling of the U.S. population, in a poll and uses that data to give the more than 8,000 celebrities in its database an E-Score ranging from 0 to 100, with 100 being the most known, liked and appealing.
Here's a history of LeBron's E-Scores drawn from the chart accompanying Rovell's article: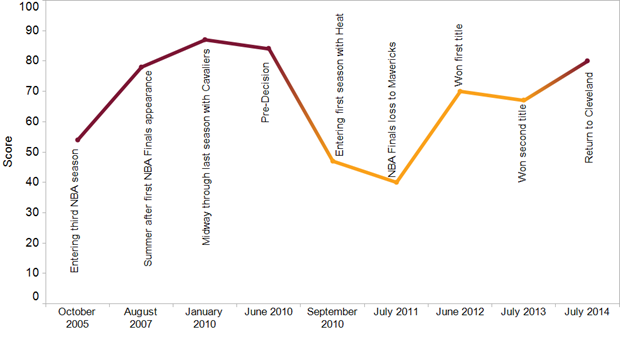 LeBron dipped to 47 after The Decision, and he's on his way back to his pre-Decision high of 87. I think he'll get there.
LeBron's popularity is a fascinating topic, and it's interesting to see how quickly people have turned in his favor since he announced his return to Cleveland.
He's no longer the villain, and the numbers prove it.