UPDATE 5:45 pm: The dream of Rudy Gay and Josh Smith competing for who could take the more ill-advised three pointer is dead.
While some talks did take place they have fallen apart, reports Jonathan Givony of DraftExpress.com. That's the right move by the Kings, but it makes me a little sad.
3:48 pm: Maybe no contract is untradable, but Josh Smith's deal should be standing right next untradable with his arm around it. Smith is owed three more years, $40.5 million fully guaranteed. Thanks again for that, Joe Dumars.
Stan Van Gundy wants to give Andre Drummond and Greg Monroe a chance side by side, and that would mean finding a new home for Smith and his contract.
Like maybe Sacramento, reports Marc Stein of ESPN.
That's some odd thinking out of Sacramento: "I want to recruit Rajon Rondo so let's get a guy who will take touches away from DeMarcus Cousins and take more awkward threes than Rudy Gay. And he costs a lot over the long term, all the better!"
Smith can put up points, that's not the question, he averaged 16.7 points a game last season, it's that he took 16 shots a game to get there. It's his shot selection that drives coaches crazy — look at his shot chart from last season. Notice 30.2 percent of his shots came from where he is a good shooter and nearly 70 percent from where he is not.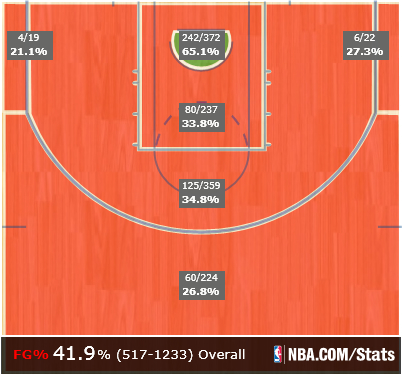 That said, a lineup of Rondo, Ben McLemore, Gay, Smith and Cousins would be wildly entertaining. Potentially in a train wreck kind of way, but entertaining.
I think this trade idea is a long shot at best, but it was too good to ignore.
If you're looking for a more sure thing Kings trade, both Stein and other league sources say Kings are shopping the No. 8 pick around.