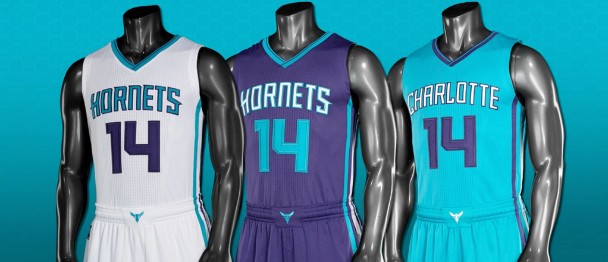 The Hornets are back. The buzz is back in Charlotte.
And the teal is back.
The Charlotte Hornets (you can flush the Bobcats goodbye) are back and they are bringing back the color scheme they had in Charlotte from 1988 to 2002.
This is part of the re-branding of the Charlotte franchise as the Hornets — the original Hornets were moved to New Orleans by then owner George Shinn (one of the worst owners in NBA history). After that Charlotte got an expansion team that owner Bob Johnson named the Bobcats (after himself?). None of this sat terribly well with locals and what had been one of the better middle/small market crowds in the NBA faded.
Michael Jordan bought the team and was tasked with changing its fortunes . After a slow start, he's started to figure this ownership thing out. The Bobcats made the playoffs last year and the building was rocking. Then, thanks to the New Orleans franchise changing the name to something more fittingly local to them (Pelicans) the Hornets name came free and Charlotte has snatched it up. Hornets is a name tied to Charlotte back to the Revolutionary War when British General Charles Cornwallis called Charlotte "a hornet's nest" of revolutionaries. The name always belonged in Charlotte.
So did the teal.
The home white jersey is on the left in the photo above, the purple jersey is the road jersey. The third, alternate jersey is the teal-dominant one and it is the lone jersey with "Charlotte" across the chest rather than the team nickname.
I like the look. I like the future in Charlotte, too.