Kawhi Leonard seemed to pick the absolute right moment to play the best basketball of his life.
Just before he can get paid.
Leonard, whom the Spurs drafted in 2011, can sign a contract extension between July 10 and Oct. 31. If that window closes without a deal, he'll become become a restricted free agent in 2015.
Either way, Leonard will make $2,894,059 next season, the final year of his rookie-scale deal. But that will be the last season he earns such a pittance. The only unknown is how large Leonard's raise will be, and that leads to the first issue:
Is Leonard a maximum-contract player?
That the question must be asked says more about the Spurs than it does about Leonard.
He's played so well and proven so much, and he's just 22. Barring a big drop next season, he could certainly command a max offer sheet as a free agent in 2015.
In the last decade, just 20 first-round picks have produced as many win shares as Leonard through three seasons, when they became eligible for contract extensions. So far, 15 of those 20 have received max deals – 14 by extension.* Only Brook Lopez had to wait until free agency for his, and Greg Monroe – a free agent this summer who's seeking a max contract – could make it 16 of 20 with max contracts following their four-year rookie deals.**
*Max contract is a term with multiple definitions. Here, I mean any contract that starts at the maximum allowable salary for a typical fifth-year player.
**The other four – Al Horford (five-year, $60 million extension), Rajon Rondo (five-year, $55 million extension), Andre Iguodala (six-year, $80 million re-signing), Luol Deng (six-year, $71.06 million re-signing) – also did pretty well for themselves.
So, why don't the Spurs skip the hassle and just give Leonard the max this summer?
For one, the most they can offer him – in an extension now or in free agency in 2015 – is substantially more than another team could offer in free agency.
Using a crude 2015-16 cap projection (assuming the cap rises from 2014-15 the same amount its projected to increase from 2013-14), here are the maximum amounts Leonard could get re-signing or extending his deal with the Spurs (black) or signing an offer sheet with another team (silver):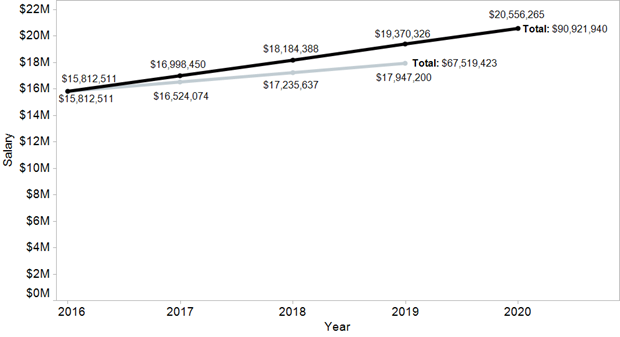 | | | |
| --- | --- | --- |
| Year | Re-signs or extension | Signs offer sheet |
| 2015-16 | $15,812,511 | $15,812,511 |
| 2016-17 | $16,998,450 | $16,524,074 |
| 2017-18 | $18,184,388 | $17,235,637 |
| 2018-19 | $19,370,326 | $17,947,200 |
| 2019-20 | $20,556,265 | |
| Total | $90,921,940 | $67,519,423 |
If Leonard wins MVP next season, these numbers could be higher, but that's so obviously so unlikely, I'm ignoring the possibility in this post.
In some sense, it behooves the Spurs to let Leonard become a free agent and bring back an offer sheet and then just match it. That's especially true, because San Antonio can't sign him to a five-year extension without offering the full max.
But if the Spurs let Leonard become a free agent next summer, they can re-sign him to a five-year deal at any salary. That – not an extension – is their best ticket to locking him up for the longest possible length of time.
So, unless the Spurs want to sign Leonard for just four years beyond next season or pay as much as possible to keep him for five extra years, they shouldn't extend him this summer.
Next summer, he'd become a restricted free agent, and then San Antonio could reward Leonard – at least to a degree.
[RELATED: Spurs expect Tim Duncan to return next season]
The Spurs have a history of convincing their top players to re-sign for less than market value. When it happens in San Antonio, it's called loyalty. When it happens in Miami, it's called blasphemy. But it happens repeatedly in San Antonio.
As long as Leonard doesn't regress in the next year, accepting anything less than the $67,519,423 figure is on him. He's been hailed as a worthy member of the Spurs team-first culture, and if he's willing to leave money on the table, good for him.
And if the Spurs pay him more than that, it should be only to get that fifth year tacked on. Leonard would have little leverage to command the full $90,921,940.
Will either side play hardball when it comes to splitting the difference? It seems out of character for both.
I'd think the Spurs would want to re-up Leonard for five more years beyond next season without paying him the full max, and I'd think he'd accept that – which is why an extension wouldn't work. Remember, five-year extensions to rookie deals require max salaries and raises.
Next offseason, Leonard could chase a four-year max offer sheet from another team – which the Spurs would likely match – or just re-sign in San Antonio on a five-year deal for less than the highest possible amount.
That plan would require Leonard betting his value remains high a year from now, which is probably a wager worth taking. Why should Leonard rush to give the Spurs a hometown discount?
And why should San Antonio rush to max out Leonard?
Leonard isn't going anywhere. The Spurs control his rights for the next couple years minimum, and Leonard would have to sacrifice a lot of money to escape San Antonio even that quickly.
Not that he'd want to do that.
This is a happy partnership. The Spurs just won an NBA championship with Leonard leading them to the finish. It's a partnership worth continuing.
It just makes most sense to set the terms of the next chapter next summer rather than this one.