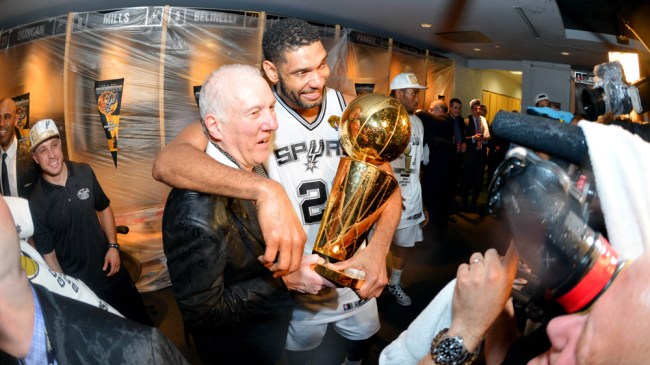 Something crystallized a bit for me in the final minutes of San Antonio's destruction of the Miami Heat in the NBA Finals this year. It's probably obvious, but I had never thought about it before. Tim Duncan was out there playing his usual fierce basketball though his Spurs were up by 20 or so and had the thing wrapped up. At one point, he went to the floor after a loose ball and another time he raced down the court to join the fast break, all with the game decided. It was so typical Duncan that it's almost impolite to bring up that surely no other 38-year-old man has ever played so hard for so little reason. That's just Tim Duncan.
But here's what I thought: Duncan has never been easy for us to categorize. Mark Jackson has been calling him "the greatest power forward in the history of the NBA," and that's certainly fine with me. But is Duncan really a power forward? Maybe. He's a 7-foot (or so) shot blocker who plays much of the time with his back to the basket. His game doesn't resemble many of the other great power forwards in NBA history — it seems silly to compare him to Karl Malone, Charles Barkley, Dolph Schayes, James Worthy or Bob Petit. If he's a power forward, doesn't that make Bill Russell a power forward too?
Look, it's fine: Duncan might be more power forward than center but, realistically, he doesn't play ANY position. He plays Tim Duncan. The rest works around him.
There are those who rank Duncan in the top 10 all-time — and that's fair but unfulfilling. He's unique. We can sense intrinsically that there's something that separates him from everyone, including the others in the Top 10. There are those who call him the most fundamental player ever — and that might be true, but it's boring. And, by the way, it also might not be true, the game has had brilliant fundamental players — Jerry West, Oscar Robertson, Kevin McHale, Hakeem Olajuowon, Larry Bird and plenty of others.
More: Spurs owner, Tony Parker expect Tim Duncan will return next season
Anyway, it was while watching those final minutes that this thought occurred to me.
If you are a coach, and you could take any player in NBA history — you would be smart to take Tim Duncan.
I know that sounds like I'm saying Duncan's the greatest player in NBA history. He's not, and that's not what I'm saying. I'm saying that if you are a COACH, he's the guy you should take. I'm saying that Duncan is the closest thing to a coach's perfect player that we have ever seen.
Think about all the things you would want from a player if you were an NBA coach. The first thing you would want is talent; that's obvious. A basketball coach once told me that if he had the choice to pick two teams and the only thing he knew about them was that one team was "coachable" and the other team was "talented", he would take the talented team every single time. "You take the coachable team," he told me. "You'll have a bunch of good kids to have dinner with after you lose."
That might be true in the larger picture, but Duncan has amazing athletic talent — it sometimes gets overlooked. He's tall with long arms and yet he can handle the basketball. He has great touch around the basket and he can make the 17-footer pretty consistently. He still can outrun many big men down the floor. And then, there are those amazing hands — Duncan catches everything.
After talent, the next thing you'd want is probably consistency — you want to know the player will show up game after game. Those players who are great one night, lousy the next, they drive coaches crazy. Well, everyone knows Duncan would be first-team All-Consistency. He never changes.
The Dan Patrick Show: Charles Barkley on Tim Duncan's place in NBA history

Look at his per-36 minute numbers:
As a rookie (1997-98): 19.4 points, 11.0 rebounds, 2.3 blocks, 2.5 assists.
In his first championship season (1998-99): 19.9 points, 10.5 rebounds, 2.2 blocks, 2.2 assists.
In his first MVP season (2001-02): 22.6 points, 11.3 rebounds, 2.2 blocks, 3.3 assists.
In his second MVP season (2002-03): 21.3 points, 11.8 rebounds, 2.7 blocks, 3.6 assists.
The year he turned 35 (2011-2012): 19.7 points, 11.5 rebounds, 1.9 blocks, 2.9 assists.
This year (2013-2014): 18.7 points, 12.0 rebounds, 2.3 blocks, 3.7 assists.
More: Bill Russell ranks Tim Duncan 'right up there at the top'
That's just insane — he doesn't change. He needs more rest as he gets older. He will miss a few more games with nagging injuries. But for 17 years he has been the exact same basketball player; only a handful of players have been so consistent for so long.
So you have talent and you add consistency. And then, on top of that, you throw in all those intangibles that coaches adore. Name any attribute coaches prize, he has it. Works hard? Yes. Is a good teammate? One of the best. Takes criticism? Like no one else. Holds grudges? Nope. Complains in the press? He hardly even talks to the press. Wants special treatment? Nope. Loyal? The guy has stayed in San Antonio his whole career.
What other great player in any sport had all of these?
The Spurs have won 70 percent of their games with Duncan, including playoffs, and have never had a winning percentage lower than 60 percent in a season. So much of this, as everyone knows, is coach Gregg Popovich, who is famous for perfectionism and his ability to adapt to the game. There is no doubt about his greatness. But how possible would Gregg Popovich even be if Tim Duncan wasn't Tim Duncan? How well would his intense coaching work if at any point Duncan turned and said, "Um, what's your name again?" How many championships would he have won if Duncan had ever gone to the owner and said, "Look, I'm sorry, I can't play for this guy."
This is what stars do. All the time.
But Duncan went the other way. He accepted that Pop knows more basketball than he does. He took the blame when Pop heaped it on him. He listened. He learned. If he was angry, he turned it inward into his play. If he was bitter, he let it go.
The other players saw this. Of course they saw. What could they do when Pop came down on them but follow Duncan's lead? Popovich is a fantastic coach, the best in the business … but there are a lot of great coaches who have been ignored by stars or worn down by players' unwillingness. Tim Duncan was the greatest gift a coach could get.
And maybe that's how we should think of him. It is fun to pretend you are a coach and you can choose an all-time NBA team to coach. Most people would choose Michael Jordan No. 1 — but remember Jordan ran off a coach before he won a championship. LeBron hasn't always been easy to coach, Magic wasn't always easy to coach, Kobe wasn't always easy to coach and neither was Shaq. Wilt was pretty tough. You might take one of those great stars and find yourself fired before the team even started winning.
Don't misunderstand: There have been other great players who were great to coach too. But I still say that as a coach who gets to choose any player in NBA history, you'd want to take Tim Duncan. There have been players who scored more, rebounded more, intimidated more, who passed out of the double team with more panache. But no one ever made a coach look as good.
PBT Extra: How the Spurs won their fifth NBA title