Tim Duncan had 10 points and 11 rebounds in 31 minutes last night.
That's a pretty ho-hum game, except when you consider it was the 126th time Duncan hit those numbers in a playoff game.
In the process, he broke a couple NBA records.
Duncan surpassed Magic Johnson in playoff double-doubles and Kareem Abdul-Jabbar in career playoff minutes.
Here's the top 10 all-time in postseason minutes:

In fact, Duncan has played more playoff minutes than NBA 19 franchises – even passing the Knicks last night.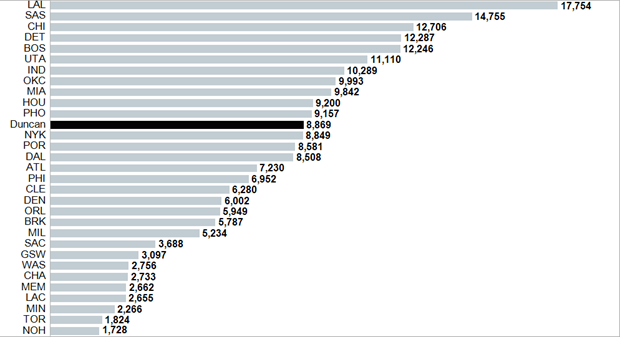 After the game, Duncan was asked about breaking records held by Magic Johnson and Kareem Abdul-Jabbar.
"I can appreciate you saying the names and having passed them in anything," Duncan said. "It's an honor to be in that position. Having won helps, obviously, but the focus is winning one more, and once that one more is done, I can look back and say, hey, it's truly an honor."
The Spurs are one win from allowing Duncan to reflect, but I can do it now. These are awesome accomplishments that are only small pieces of an incredible career.