The Spurs' decision to start Boris Diaw in Game 3 of the NBA Finals immediately paid off. With the versatile offensive difference maker, San Antonio started 8-for-9 from the field and scored 22 points on its first 12 possessions.
But Diaw can't play the full game, and Gregg Popovich subbed him out midway through the first quarter.
Would the Spurs' offense hit the bench with him?
On the next possession, Tony Parker and Tim Duncan ran a pick-and-roll, drawing the attention of LeBron James for just a moment. That allowed Kawhi Leonard to spring free as Parker swung the ball to him. Leonard buried a 3-pointer.
No matter whom the Spurs put on the court last night, their offense kept rolling.
Here are San Antonio's offensive ratings with each Spur who played at least double-digit minutes on the floor, sorted by playing time. The scale ranges from the NBA's worst offensive team (76ers, 96.8 points per 100 possessions) to its best (Clippers, 109.4).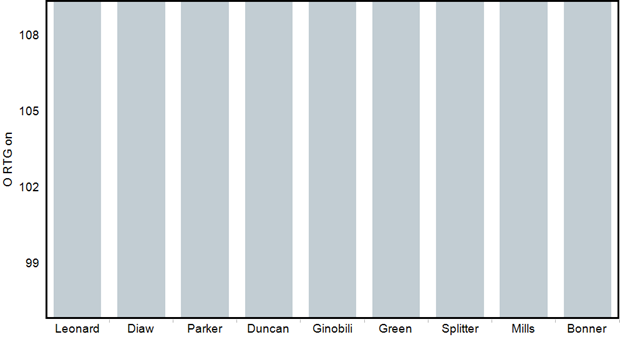 Not a single one of the San Antonio rotation players even fits on the the scale.
Let's try that again.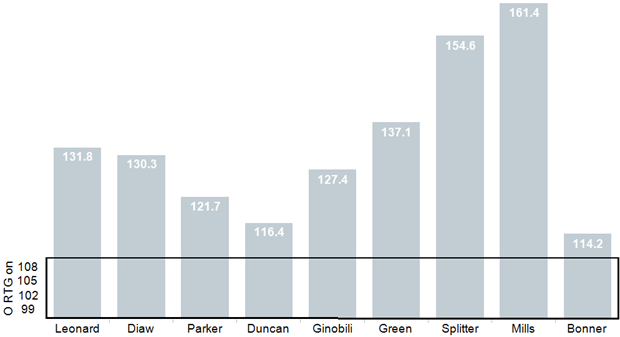 Leonard led the Spurs with 29 points – nearly twice as many as any other San Antonio player. But that doesn't truly reflect the Spurs' offensive balance.
Shooting, passing, screening, cutting – a lot goes into San Antonio's offense, and every rotation player contributed in his own way. For the Heat, the challenge never relents. No San Antonio substitution offers a break.
This is what people mean whey they refer to "the beautiful game."