Boris Diaw did everything but score, and once he scored, he was done.
The Spurs old, overweight and slow forward completely dominated Game 1 of the NBA Finals without even making a shot most of the night. Finally, late in the fourth quarter, Ginobili completed a brilliant pass – the type Diaw had been making – to Diaw for a layup.
It was almost as if scoring were Diaw's cramps, because after that, he was essentially finished. His final line:
2 points, +30
"He knows how to play," Spurs coach Gregg Popovich said. "In our league there are probably more good athletes than people who know how to play, and we're fortunate to have one of those guys."
Diaw is a masterful passer for his position, and he had six assists and one turnover. His passing and long-range shooting go hand-in-hand, because by spotting up beyond the 3-point arc, Diaw stretches the Heat defense. When Diaw catches and then dribbles toward the basket, Miami really scrambles, freeing passing lanes.
If the Heat adjust by going smaller against him, Diaw can post-up. He's become a huge offensive threat and nightmare mismatch.
The 6-foot-8 Diaw also holds his own defensively and on the glass, throwing his weight around to gain position. Last night, he grabbed 10 rebounds.
All together, his impact on the Spurs' production was incredible.
With Diaw on:
Offensive rating: 133.9
Defensive rating: 89.1
Net rating: 44.9
With Diaw off:
Offensive rating: 78.9
Defensive rating: 123.5
Net rating: -44.6
This wasn't a short, isolated run of success slanting Diaw's impact. All game, he bettered the Spurs' offense before helping it rise into the stratosphere in the fourth quarter.
Here are San Antonio's quarterly offensive ratings with Diaw on (black) and off (silver):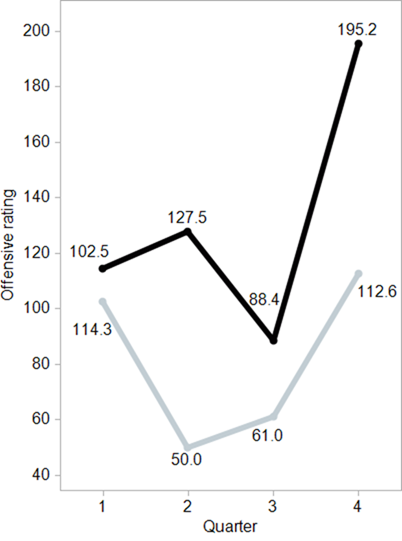 This wasn't even an isolated game, either.
In Diaw's last three contests, the Spurs have outscored their opponents by 59 points in his 102 minutes. In the other 47 minutes, they've been outscored by 11 points.
He changed the Western Conference Finals with his floor spacing in Game 5 against the Thunder, and he was even better – scoring 26 points – in Game 6. He carried that production right into the next round.
Diaw played 33 minutes Thursday – 10 more than starting center Tiago Splitter. You have to wonder when Popovich, who's also tried starting Matt Bonner next to Tim Duncan, will just start Diaw.
Whether Diaw moves into the starting lineup or continues coming off the bench, the Heat must better account for him. That's an easy assessment to make.
How will they do it? That's a much harder question to answer.