Long after a championship team has finished its run, it's always entertaining to look back on the cast of characters and research the question: Where are they now? One team particularly interests me.
The starting point guard became a head coach and has done it long enough to get fired. Twice.
The starting shooting guard has served as an assistant coach so long, he took a sabbatical this season.
The staring small forward has worked as a color commentator longer than his NBA career lasted.
The starting center waited the required amount of time and then was elected to the Basketball Hall of Fame. Heck, he's been enshrined as long as he had to wait.
And the starting power forward, well, he's playing for the NBA title once again.
Fifteen years after Tim Duncan won his first NBA title – starting with Avery Johnson, Mario Elie, Sean Elliott and David Robinson – the Spurs superstar is four wins from another. No other player on that 1999 San Antonio championship team has even been in the league the last few years.
Yet, not only is Duncan still playing, he's excelling.
A lot of external circumstances have changed – Dominique Wilkins was still in the NBA and Bill Clinton was still president when Duncan won his first title – but Duncan has remained one of the steadiest elite performers in NBA history.
I don't know who the Spurs' best player is now. I'm tempted to say Kawhi Leonard.  A lot of people would probably answer Tony Parker. But Duncan is as good a response as any.
In 1999, the same debate raged. Was Duncan or Robinson San Antonio's best player?
Between, there has been little doubt. Duncan has performed at Hall of Fame levels, ensuring the Spurs remain at or near the top of the league.
Currently Duncan, who won his last title in 2007, has gone eight years between championships. That's pretty impressive. Just 25 players in NBA history – including two current players, Kobe Bryant and Derek Fisher – have done that.
But if the Spurs win the championship this year, that would put Duncan in even more rarified air.
Just nine players have gone more than 10 years between winning championships. Just two have gone more than 15.
Here they are with their first championship team, number of years between and their last championship team – plus where Duncan could fit with a title this year.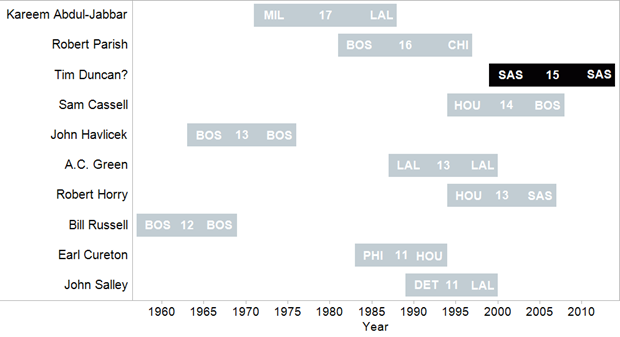 Abdul-Jabbar was still humming along, winning four titles while playing excellently with the Lakers more than 10 years after his first with the Bucks. But Parish was a benchwarmer on the Bulls long after his Celtics peak.
Duncan falls somewhere between, though much closer to Abdul-Jabbar.
And if the Spurs win the championship this year, Duncan should fall closer to the greatest of the all-time greats when discussing his legacy as an individual player and career-long winner.