LeBron James is the most popular player in the NBA.
That's what ESPN's research says. But adoration for LeBron – the percentage of fans who consider him their favorite player – has ebbed and flowed differently by demographics.
LeBron's popularity took a big dip among both black and white fans when he left Cleveland. But in his second year with the Heat, LeBron re-gained some popularity among black fans while continuing to lose ground among white fans.
By 2012-13, he had already surpassed his final Cleveland popularity mark among black fans. Though white fan support increased from 2011-12 to 2012-13, LeBron still lagged well behind where he left off with the Cavaliers.
Here are the percentage of fans who named LeBron their favorite player by season. Seasons are marked by the year they finished (e.g., 2010 represents the 2009-10 season).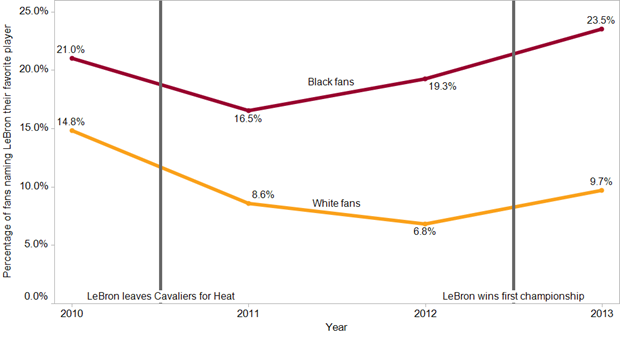 A similar phenomenon exists between avid and casual fans.
A smaller percentage of casual fans considered LeBron their favorite player in 2012-13 than did in 2009-10, but – after taking a two-year dip among both groups – a slightly higher percentage of avid fans called LeBron their favorite in 2012-13 than did in 2009-10.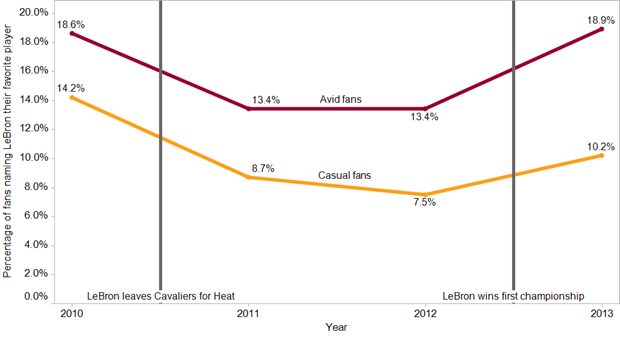 The racial and NBA-interest splits might not be completely independent. It's possible blacks are disproportionately represented among avid fans and/or vice versa, just as it's possible whites are disproportionately represented among casual fans and/or vice versa.
But whatever is driving the swings in support for LeBron is real. These are pronounced differences in his popularity by demographic.
In 2010, LeBron said he believed race was a factor in backlash to The Decision. The evidence indicates he was right.
LeBron: 'My legacy will speak for itself'