As the final buzzer sounded in Game 7 of the 2013 NBA Finals and the Miami Heat clinched their second straight championship, Dwyane Wade immediately sprinted to Tim Duncan and congratulated him on a well-fought series.
Later, Wade explained his admiration for the Spurs star.
"At his age, if I can still do that, man I'd have had a hell of a career," Wade said.
Wade, six year's Duncan's junior, doesn't need to wait until he's Duncan's age to understand the challenges of competing with declining athleticism. The 32-year-old Wade has experienced a career full of knee injuries.
He hobbled through last year's playoffs and had his knee drained before coming up big in Game 7. But in sum, Wade had an unspectacular postseason.
Which was nothing new.
For a few years, Wade had been slipping in the playoffs. It appeared likely he'd have increasing trouble persevering deep into the postseason as his career continued.
But this season, he's bucked the trend. Whether your catch-all stat of choice is PER or win shares per 48 minutes, Wade has reversed a three-year decline in playoff productivity: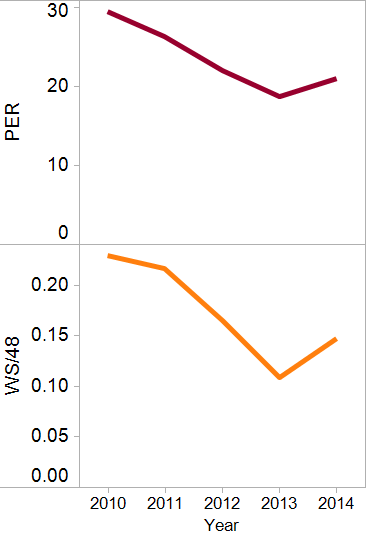 When LeBron James signed with the Heat, who already had Wade and Chris Bosh, the narrative said LeBron needed superstar teammates to win a championship because he couldn't do it on his own. And that might be true. LeBron never won a title with the Cavaliers, though he also hadn't yet developed into peak form in Cleveland.
Much more true: Wade needed help to win another title.
Since leading the Heat to the 2006 championship, Wade hadn't won another playoff series until LeBron and Bosh arrived. He was still a great player, but all those postseason games were taking their toll, especially considering his physical style of play.
This year, through rest and intensive training, Wade tried to re-set his clock. He played just 54 games and a career-low 32.9 minutes per game in them.
The goal all along was to ensure he peaked at the right moment – and he is.
Round to round in the playoffs, his production has increased.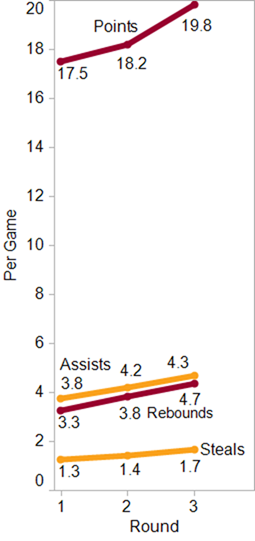 These Spurs might be Miami's toughest Finals competition yet in the Big Three era – and that includes the Mavericks who beat the Heat in 2011. Yes, Wade needs LeBron and Bosh. But they need Wade, too.
They have him.
After a year of careful planning – when it not long ago seemed he would never reverse his postseason slide – Wade is back in the NBA Finals, healthy and primed to excel.