Paul George is having a good day.
The Pacers forward just made $6,788,165.*
*That number, and numbers in this post, are based on the NBA's latest cap projection. When the league reviews its books and sets the actual salary cap in July, these numbers will change slightly.
By making the All-NBA third-team, George will earn more money on the five-year contract extension he signed before the season. As detailed previously, that extension set George's 2014-15 salary to rise from 25 to 27 percent of the salary cap if he qualified for the Derrick Rose rule. By making an All-NBA team – the second of his career – he qualified.
The yellow line shows what George will make the next five seasons (27% of the max). The blue line shows what he would have made if he missed the All-NBA teams (25% of the max).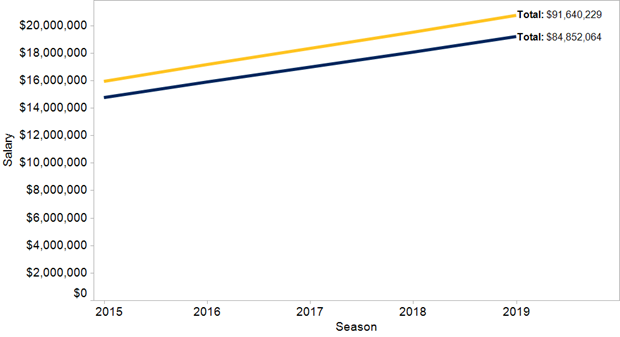 | | | |
| --- | --- | --- |
| Season | 25% max | 27% max |
| 2014-15 | $14,756,881 | $15,937,431 |
| 2015-16 | $15,863,647 | $17,132,738 |
| 2016-17 | $16,970,413 | $18,328,046 |
| 2017-18 | $18,077,179 | $19,523,353 |
| 2018-19 | $19,183,945 | $20,718,660 |
| Total | $84,852,064 | $91,640,229 |
Unfortunately for the Pacers, George's good news is not their own.
They'll owe George an extra $1,180,550 next season, cutting into their leeway for re-signing Lance Stephenson while avoiding the luxury tax (projected to start at $77 million).
Let's say the Pacers keep all 10 players they have under contract for next season,* sign the No. 57 pick to a minimum contract and fill out a 13-player roster with one more minimum-salary free agent.
To avoid paying the luxury tax, that would leave $8,442,470 for Stephenson's starting salary. Based on the length of the deal, here's the most he could earn without forcing Indiana into the tax range:
One-year contract: $8,442,470
Two-year contract: $17,518,125
Three-year contract: $27,226,965
Four-year contract: $37,568,991
Five-year contract: $48,544,202
*George, Roy Hibbert, David West, George Hill, Luis Scola, Ian Mahinmi, Chris Copeland, C.J. Watson, Solomon Hill and Donald Sloan
If the Pacers need to offer Stephenson more money, they could waive Scola ($940,946 guaranteed) and replace him with a minimum-salary player. That would grant Indiana $3,953,256 in additional room below the tax line.
In that case, the Pacers could give Stephenson a starting salary of $11,454,780 and avoid the tax. Depending on length of the deal, that would look like (max):
One-year contract: $11,454,780
Two-year contract: $23,768,668
Three-year contract: $36,941,665
Four-year contract: $50,973,771
Five-year contract: $65,864,984
That should be enough wiggle room to re-sign Stephenson – though it leaves an opening for a preying opponent to poach him. Stephenson's max starting salary next season is projected to be $14,756,881 – the same amount George avoided by making an All-NBA team. The Pacers would have to do more than just waive Scola to offer Stephenson his max.
Plus, if re-signing Stephenson requires waiving Scola, that wouldn't leave much room under the tax line to upgrade the team elsewhere. Without making other moves, it's unlikely Indiana could use its full mid-level exception ($5,305,000) without crossing the tax line.
However, the tax is not assessed until the end of the season. The Pacers could begin the year with a payroll over $77 million and figure out the rest as they go. Would they take that risk? I don't know.
Paul George is having a good day. Because of it, the Pacers face a summer of tough(er) decisions.