Does this old, run-down, over-the-hill team still have what it takes to win a championship?
The question never stops lurking and will play a prominent role in discussion of the 2014 NBA Finals.
Unfortunately, it will usually be applied to the wrong team.
The Miami Heat – not the San Antonio Spurs – are the old team in these Finals.
The Heat have an average age* of 31.0 in the playoffs, second only to the Mavericks (31.3).
The Spurs (29.5) rank fifth in average age.*
*Weighted by minutes played, using a constant of a player's age on Feb. 1 of that season
This is not a revelation. Merely, it's a repeat of last year and a continuation of a half-decade trend.
Miami and San Antonio have both made the playoffs each of the last five years. Though the Heat started considerably younger, they've aged since signing LeBron James, Chris Bosh and Dwyane Wade. The Spurs, meanwhile, have fluctuated while trending younger.
Here's each team's average age during the playoffs in the last five years – the Heat in red and Spurs in black: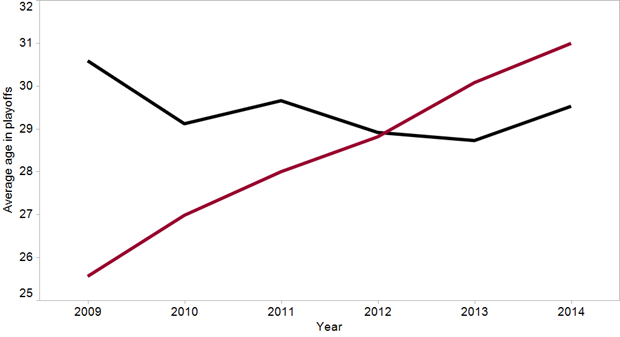 Miami's three most-prominent players – Wade (32), Bosh (30) and LeBron (29) are collectively much younger than San Antonio's three most-prominent players – Tim Duncan (38), Manu Ginobili (36) and Tony Parker (32) – and that's why the narrative is often backward.
But those six alone don't tell the entire story.
The Spurs have given prominent roles to Kawhi Leonard (22), Danny Green (26) and Patty Mills (25). The Heat, on the other hand, have turned to Ray Allen (38), Chris Andersen (35) and Rashard Lewis (34) to fill out their rotation.
Miami has also continuously depended on its big three as they've aged a year each season. San Antonio has deemphasized Duncan, Ginobili and Parker as they've aged. When evaluating age by weighing for playing time, that matters a great deal.
The Heat aren't too old to win a title. The Mavericks were even older when they won in 2011.
But if we're going to question anyone's age in these Finals, it should be the fogeys in Miami.