Al Horford turns 28 today, and wanting to wish him a happy birthday, the Atlanta Hawks turned to Lance Stephenson for help.
[Editor's note: The Hawks have removed the tweet and the image, apparently getting a little backlash from the league. But nothing ever dies on the Internet, so here is the image, albeit a bit small you get the idea.]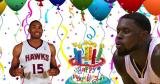 The Spurs and Heat might be in the NBA Finals, but the Hawks are the real MVP today.