When the Pacers host the Heat in Game 5 tonight, Roy Hibbert will try to avoid topping his own record.
All he must do is score a point.
Hibbert went scoreless in Game 4 – and whether or not Indiana's gameplan deserves the most blame (it doesn't) – that was Hibbert's fourth scoreless game of the 2014 playoffs. It's a record for someone who made the All-Star Game the same season, breaking a tie with Jim King of the 1968 San Francisco Warriors.
In addition to Monday, Hibbert also scored no points in Games 5 and 6 against the Hawks and Game 1 against the Wizards.
Here is a complete history of scoreless playoff games by All-Stars: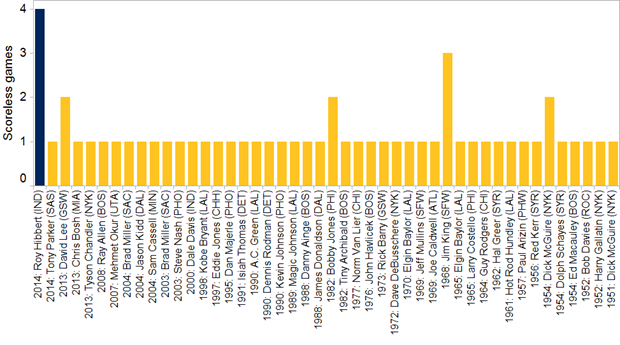 Some of those scoreless games involve injuries, including Tony Parker's this year, but Hibbert has remained healthy.
So how has he done it? There are a few elements at play.
1. Hibbert was named an All-Star due more to his defense than offense. Still, if he were scoring like this in the season's first half, he never would have made the All-Star Game.
2. The Pacers have played well enough to extend their run to the conference finals and gieve Hibbert more opportunities to go scoreless. That's at least partially – maybe even mostly – because the East stinks.
3. Hibbert has lost so much confidence.