LeBron James didn't even touch the ball until the Heat's fifth possession – and he had to grab a rebound to get his hands on it.
After hitting the glass, he dribbled the length of the floor, exploded into the paint and made a layup over a backtracking Paul George.
LeBron certainly didn't play poorly in the Heat's Game 1 loss to the the Pacers on Sunday. He finished with 25 points, 10 rebounds, five assists and three steals.
He just didn't assert himself, at least by his standards. To get those impressive numbers, he really made the most of limited opportunities.
Including regular season and playoffs, LeBron averages a touch every 30 seconds. Sunday, he touched the ball just once per 44 seconds – by far a season high time between touches.
Here are LeBron's game-by game seconds per touch this season (regular season in red, first round against Bobcats in blue, second round against Nets in black, Game 1 against Pacers in gold).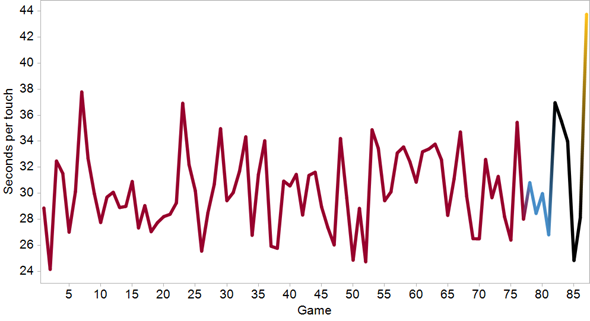 In all, LeBron had just 56 touches in 41 minutes Sunday. He had fewer touches just thrice this season – a pair of wins over the last-place Bucks and a victory over the Spurs in which he played a season-low 28 minutes.
Usually, LeBron better picks his spots to defer. In the 20 previous games this season he had the fewest touches, the Heat went 19-1.
But Miami needed LeBron more involved Sunday.
Paul George deserves credit for blanketing LeBron. That doesn't explain why LeBron passively waited beyond the arc so often.
It certainly wasn't to conserve energy for defense.
LeBron didn't defend well, and he didn't make the mark he can offensively. His numbers were good, and so was his play. Merely good just isn't the standard for LeBron.
Often, unfairly, we've demanded more and more from LeBron. But had he even  been as involved Sunday as often as he usually is, that would have made a significant difference. Not only would he have been in position to score more, having the ball would have forced the Pacers defense to collapse more often created open shots for his teammates.
For the Heat to overcome their 1-0 series deficit, they need LeBron to assert himself. Teammates ignoring him is not an excuse for a player of his caliber. He has the cache to demand the ball.
He needs to do it.