LOS ANGELES — Blake Griffin's jump shot has gotten to the point you have to respect it. From his spots on the left wing and near the top of the key, with a little space, he can knock it down consistently.
Except he hasn't through two games against the Thunder.
It's not just the jumper, Griffin isn't scoring as efficiently as you expect of him anywhere on the court. Check out his shot chart from the first two games.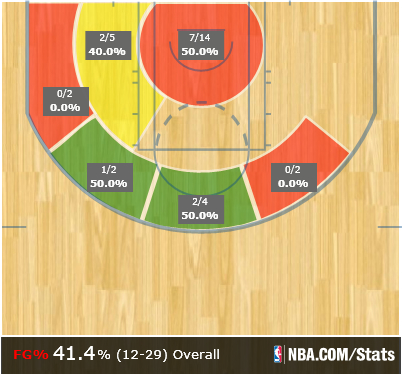 It's a little shocking to see him shooting 50 percent inside 8 feet (he's just 5-of-10 at the rim as part of that) but his midrange game also is flat. He's just 5-of-14 from the midrange total against the Thunder (35.7 percent).
The length of Serge Ibaka and the Thunder defenders are part of that, but the Clippers just missed makeable shots in Game 2. Rivers wants an aggressive Griffin back for Game 3.
"We do want him to attack more," Rivers said 90 minutes before tipoff. "I don't think this is going to be one of those backdown, post-up series for him with Perk and Ibaka. But I do think it's a face up series with speed and attacking that way, and we just have to get him in better spots to do that….
"His advantage in this series is not going to be power. His advantage in the Golden State series was being more powerful. His advantage in this series will be speed."
If Griffin faces up he may get a little space.
"If I had to pick between a dunk and a shot, I'd take the shot," Thunder coach Scott Brooks said.
The real key for Griffin is hitting them, and it goes for the rest of the team. In Game 1 the Clippers got 58 uncontested looks and shot 54 percent on them (via NBA.com's Sports VU data). In Game 2 they got 50 of those shots but hit just 44 percent. That was the difference.
If the Clippers are more comfortable at home and hitting those shots, you have to like their chances in Game 3.