That is why you want Russell Westbrook on your team.
The "good Westbrook" and "bad Westbrook" are different sides of the same coin — he's always aggressive, attacking, putting pressure on defense and when that works, when his shots is falling and the defense is scrambling, he can take a team down.
That's sort of what happened Wednesday night.
Kevin Durant started out the game riding the high of winning the MVP award and put up 17 first quarter points, he finished with 32. The Clippers climbed back but it was Westbrook who led the charge for the Thunder — he finished with a triple double of 31 points, 10 rebounds and 10 assists. Westbrook led a more balanced attack (Thabo Sefalosha had 12 in the third quarter) as Oklahoma City pulled away in the second half, led by as many as 20 and went on to win 112-101.
OKC's win evens the series at 1-1 heading back to Los Angeles for Game 3 Friday.
That was Westbrook's third triple-double of the playoffs. When he plays like this he may pick up a technical (he did), he may play out of control for a stretch (he did), but the good of his pressure and attacks outweighs all of it.
The Thunder offense — with two of the top 10 scorers in the game — is going to get points every night. They did in Game 1. That's not the issue. Where they got burned in Game 1 was on defense, with Chris Paul knocking down threes and getting into the lane.
In Game 2 the Thunder defended the paint much better, mostly by doing a better job containing the ball handler on the pick-and-roll — the Clippers had 29 shots in the paint and 54 outside it. Westbrook was aggressive on defense — he jumped the passing lane for a steal on the game's first play — and he was relentlessly chasing Chris Paul over picks and getting help to shut off the easy baskets all game. With that pressure Chris Paul shot 6-of-13, Blake Griffin 5-of-13.
Meanwhile role players stepped up for the Warriors. Serge Ibaka had 14 points on 10 shots, Sefalosha had 14 on nine shots.
Part of it was just better spacing in the Thunder offense — they didn't bring an extra defender to Westbrook, which let him read the floor better. When former teammate Darren Collison was on him, Westbrook backed him down and scored. When help came he found the open man, often for easy looks. Check out Westbrook's shot chart on the night.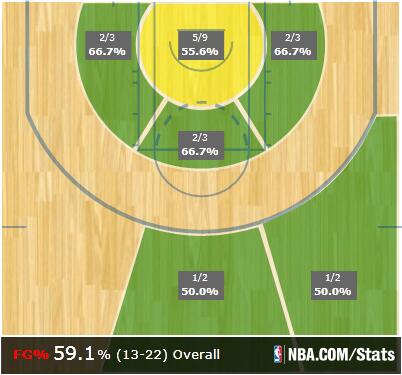 Now it falls to Doc Rivers to make the adjustments in this series. He has the advantages of going home and having more depth than Scott Brooks to work with — Rivers has more options available. He can change and create more matchups that he likes.
But when they play like this, Durant and Westbrook trump all.