SEASON RECORDS
San Antonio Spurs: 62-20
Portland Trail Blazers: 54-28
KEY INJURIES
San Antonio Spurs: none
Portland Trail Blazers: none
OFFENSE/DEFENSE RANKINGS (points per 100 possession)
San Antonio Spurs: Offense 108.1 (7th in NBA), Defense 100.1 (4th in NBA)
Portland Trail Blazers: Offense 108.3 (5th in NBA), Defense 104.7 (16th in NBA)
THREE KEYS TO THE SERIES
1) How much does experience matter?
The attention increases, the lights brighten and the pressure mounts. Relative to the second round of the NBA playoffs, the first round is practically an extension of the regular season. The difference between the first two rounds, especially if you haven't experienced it before is, stark.
From a purely mathematical standpoint, this makes sense. Going from 16 to 8 teams is a greater drop by magnitude than going from 30 to 16 teams.
If experiencing this level of the playoffs matters, San Antonio has a huge advantage.
Five Spurs – Tim Duncan, Tony Parker, Manu Ginobili, Boris Diaw and Matt Bonner – have each played more games beyond the first round than all the Trail Blazers combined.
Just three Trail Blazers have played in the second round to 13 Spurs.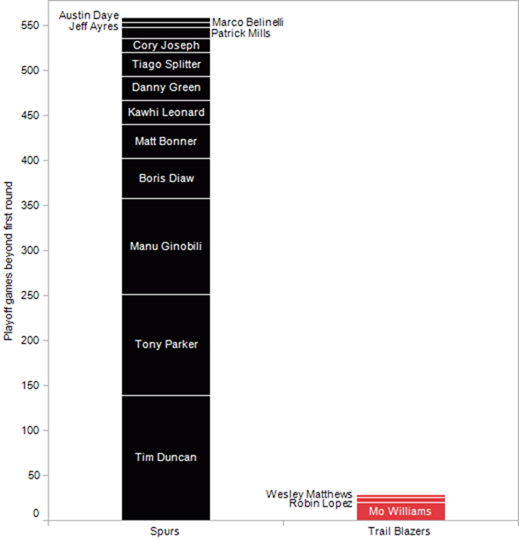 2) How much do benches matter?
The Spurs' reserves combined for 30.5 win shares this season. Give them a little more playing time, and maybe they could have competed for a playoff spot in the East.
The Trail Blazers' reserves… well, they're no longer historically bad, like they were last season. Mo Williams, Dorell Wright and Thomas have helped, but Portland still ranked last in bench scoring.
In the playoffs, benches matter less. There are no back-to-backs, so teams can more easily depend on their top players rather than their depth.
However, that's less true in this series than most. Games 1 to 6 feature only one day off between each, and Game 7 would follow just a two-day break.
Still, that sure beats the regular-season pace of games.
If the teams' benches will matter, it's based mostly on what's already happened.
Throughout the season, the Trail Blazers' starters have carried a much bigger load than the Spurs'. Here are the 120 leaders in total minutes this season, including the playoffs: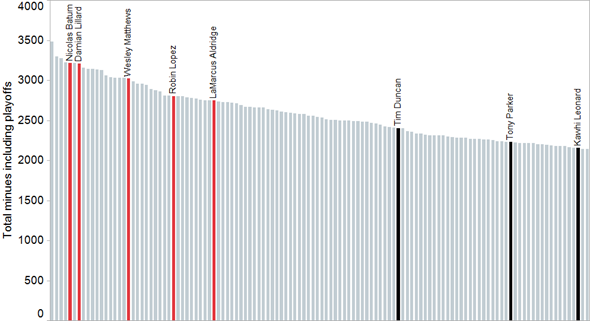 Portland is the only team with two players in the top nine, three in the top 23, four in the top 31 and five in the top 56. No Spur ranks higher than No. 78.
San Antonio, despite needing a game longer to win its first-round series, should be better-rested than the Trail Blazers. Considering the age gap, the Spurs might need to be.
3) How much can LaMarcus Aldridge and Damian Lillard do?
As noted in the previous two keys, the Spurs have some decided advantages. The main question is how much they matter.
But the Trail Blazers might have the series' two best players in LaMarcus Aldridge and Damian Lillard, and that definitely matters.
Aldridge and Lillard were both All-Stars, and Aldridge finished 10th in MVP voting. Although Tim Duncan and Tony Parker both received MVP votes – Lillard didn't – Lillard is just 23. He's better today than he was in October, and an award that considers an entire season's body of work doesn't necessarily reflect Lillard's current ability.
Lillard (25.5 points on 47 percent shooting and 49 percent 3-point shooting, 6.7 assists, 6.3 rebounds and 1.3 steals per game) excelled against the Rockets, and so did Aldridge (29.8 points on 48 percent shooting, 11.2 rebounds and 2.7 blocks per game). These are stars playing their best at the exact right moment.
It won't get any easier against the Spurs, though.
Lillard didn't have to extend much energy defending Patrick Beverley, and Jeremy Lin gave him issues at times. The margin for error is greatly reduced against Parker. Can Lillard provide at least tolerable defense and still bring it offensively?
Aldridge has generally fared well against Tim Duncan, but Houston provided a model for slowing him. Aldridge didn't fare as well against the Rockets' jumbo power-forward-center combo, Dwight Howard and Omer Asik, and San Antonio the size to at least try replicating that strategy.
Plus, the Spurs are one of the NBA's top defensive-rebounding teams, which could neutralize Portland's excellent offensive rebounding. If Robin Lopez and Thomas Robinson need help creating second-chance opportunities, something the Trail Blazers depend on, Aldridge might have to move out of his preferred mid-range spots and work closer to the rim.
Lillard and Aldridge are true stars. San Antonio might prevent them from looking like it, though.
PREDICTION
While debating the importance of experience and benches in the playoffs, I've ignored one key factor that definitely impacts postseason series: coaching. Terry Stotts has improved a great deal since coaching the Hawks and Bucks, and he has Rick Carlisle's indirect help. With Nicolas Batum in the Shawn Marion role, the Trail Blazers' can replicate the switching, mismatching defensive strategy that gummed up San Antonio's offense in the last round. However, the Spurs adjusted then, and two good coaches might still not equal Gregg Popovich.
Spurs in 7