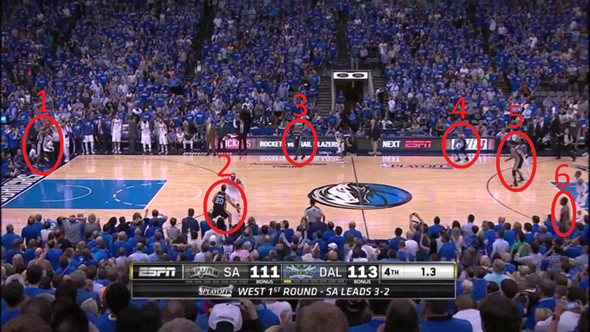 Down two and without the ball, the Spurs faced dismal odds of beating the Mavericks in the closing seconds of Game 6 Friday, but Monta Ellis – in an attempt to run out the clock – threw the ball out of bounds with 1.3 seconds left. San Antonio's chances improve a bit.
They improved much more when the Spurs ran their next play with six players.
Boris Diaw's deep pass was tipped out of bounds by Ellis, giving San Antonio an inbound inside halfcourt with 0.4 seconds left.Maybe the Mavericks would have intercept the ball if they didn't have to guard six players.
A lot of confusion about substitutions preceded the final play as Ellis frantically held up six fingers. It's unclear whether he was complaining the Spurs just inbounded the ball with six players or were trying to do it again.
Eventually, Kawhi Leonard went to the bench, San Antonio inbounded once more without getting off a shot and the Mavericks won 113-111 to set up a Game 7 Sunday.
Oh, and as I'm sure you guessed if you've watched these playoffs so far, the referees let all this unfold without a call.
(hat tip: Deadspin)