The NBA will tie a record with five Game 7s this weekend – the record for Game 7s in an entire postseason.
It's a good weekend to be an NBA fan.
To state the obvious, Game 7s are awesome.
Everyone recognizes the win-or-go-home pressure both teams face. Alone, that creates an incredible dynamic.
But don't overlook that these teams have already played each other six times, and those shared quarters often leads to some mutual disdain. Even if series were best-of-21, tensions would be high by Game 7.
So enjoy the slate: Hawks-Pacers, Grizzlies-Thunder and Warriors-Clippers on Saturday and Nets-Raptors and Mavericks-Spurs on Sunday.
The 2014 playoffs are only one Game 7 from breaking the all-time high for Game 7s in a postseason.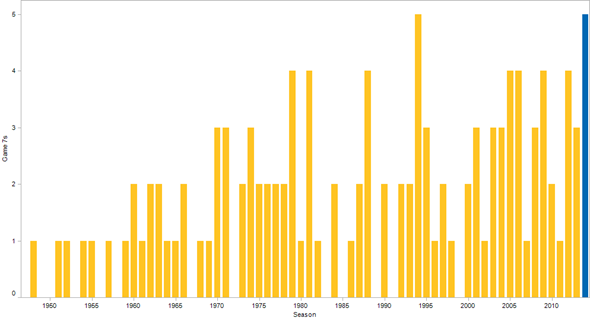 There were also five Game 7s in 1994, even though none were possible in the first round.
With the NBA expanding to a 15-series playoff format in 1984 and bumping the first round from best-of-five in 2003, there there have never been more best-of-seven series. So, the rules in the last 12 years have allowed more opportunities for Game 7s.
But who cares? We get more Game 7s, and that's awesome.