Good morning, Thunder fans.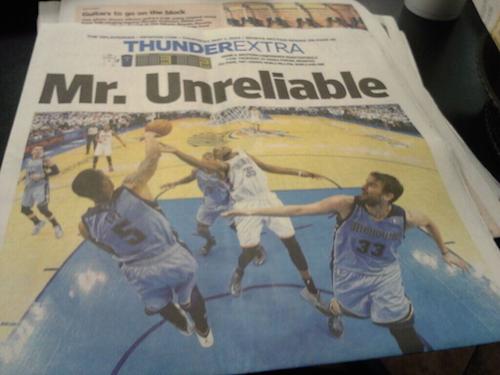 This is what the cover of a Thunder Extra looks like in today's sports section of The Oklahoman.
Really?
Now, players will tell you that they pay very little if any attention to what is written in the media this time of year, but in a smaller market like Oklahoma City, you can bet that Durant will see this.
That's not great, especially given the league's trends of star players leaving in free agency for bigger cities as soon as the opportunity presents itself.
This is especially ridiculous considering that Durant is going to win the MVP this year for what has been an incredible season, and in the playoffs, matchups determine a team's fate much more than do individual players. The Memphis defense has stifled Durant in a series where the Thunder trail 3-2, and it will unquestionably be a disappointment if Oklahoma City is bounced in the first round.
(And if that happens, it should probably cause Scott Brooks to lose his job for not figuring out how to better utilize one of the game's top players.)
Durant, however, is doing everything he can — he's averaging 28 points in an insane 47.6 minutes per game, and is still managing to shoot 40 percent from the field. That's low for him, and inefficient by his standards. But this isn't exactly Roy Hibbert we're talking about, here.
It just seems misguided to go so big in ripping Durant mid-series, when he's currently one of the game's two best players, and things still have yet to be decided. Players remember moments like these, and it's not at all far-fetched to believe that this could be one of many that influence Durant's free agent decision a couple of years from now.
UPDATE 1:02 pm: The editor at The Oklahoman has come out and admitted the headline was a mistake.