Our quick look around the NBA, or what you missed while watching the Jimmy Fallon/Emma Stone lip synch battle….

Adam Silver, NBA Commissioner. He aced his first test. With players ready to mutiny and sponsors pulling out, Silver came in and dropped the hammer on Clippers owner Donald Sterling — a lifetime ban, a $2.5 million fine and the league will try and force Sterling to sell the team. Silver stood up to Sterling and basically said "if you want a legal fight, bring it on." That's something David Stern never did with Sterling. Bravo Adam Silver, bravo.

 Nene, Washington Wizards. He was back from his one-game suspension and he was back to making life miserable for Defensive Player of the Year Joakim Noah — Nene was 7-of-13 from the midrange, 3-of-4 in the paint and put up 20 points to help lead the Wizards to a win over the Bulls, and into the second round. Check out his shot chart.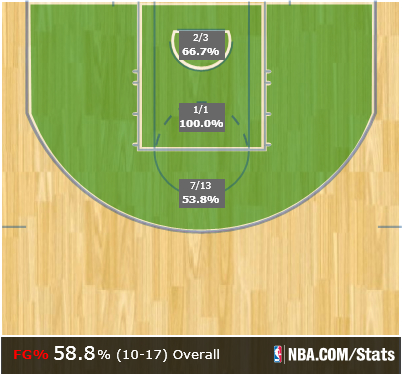 With Nene the Wizards defense improves, their offense becomes more fluid and confident. I look at that Pacers/Hawks series and think we are likely to see the Wizards in the Eastern Conference Finals.
Mike Miller, Memphis Grizzlies. Memphis was putting up points on the Thunder surprisingly easily in the first half (the Grizzlies played more quickly and that allowed them to get deeper into sets, which led to defensive breakdowns and good looks). But when the second half rolled around a desperate Thunder team cranked up their defense. That's where Miller comes in — he had 10 of his 21 points in the fourth quarter and overtime. He hit big threes in overtime when the team needed him most. He was a huge boost to them and a key reason the Grizzlies are up 3-2.

DeAndre Jordan, Los Angeles Clippers. That is the DeAndre Jordan we have been waiting for. All series the Warriors have had some success going small against the Clippers so Warriors coach Mark Jackson started that lineup the last couple games, with David Lee at the five and Draymond Green at the four. Tuesday night Jordan made the Warriors pay for that — 25 points, 18 rebounds and four blocks. That is the Jordan the Clippers need to contend.