The crowd in Brooklyn for Friday night's Game 3 win over the Raptors wasn't exactly comparable to the one we saw in Toronto for the first two games of the series, at least not in time for the opening tip.
Early start times in giant cities are problematic for fans not used to it, and dealing with work responsibilities, traffic and arena setup that makes it a challenge just to enter the building, it can create some embarrassing scenes — like this photo I snapped as the Nets took the floor, mostly to a lower level full of empty seats.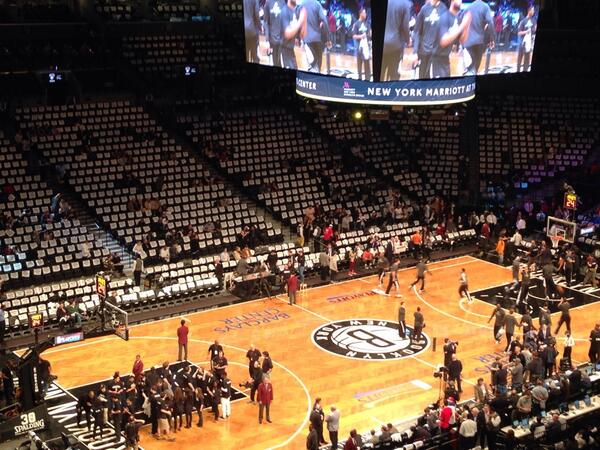 It took a while, but eventually, the Brooklyn crowd woke up and became as loud as ever in supporting its team. And there were two key plays late in the first half that got it all started.
First, it was Paul Pierce crossing over Tyler Hansbrough on the perimeter, before getting to the rim to throw down a a powerful one-handed slam that brought the crowd to its feet.
A couple of possessions later, Kevin Garnett did his part to incite the crowd himself, hitting the deck to go after a loose ball, then jumping up and screaming as only he can, before popping his jersey for the fans, who were now beyond fully engaged.
Garnett is famous for displays like these, but apparently, when in the moment, he has no idea what's happening.
From Rod Boone of Newsday:
Remember that play with about a minute left in the second quarter Friday night, when Garnett dived on the floor for a loose ball, got up with it and screamed after tugging on his jersey?

Garnett nearly doesn't.

"I blacked out at that point," he said. "I have a kid at the games. Being an example, a role model, all that goes out the door. I'm playing on heart at that point, my passion. I'm playing off the crowd — my friends are there, my teammates, J-[Kidd]. I'm just going. I have no idea what I'm doing. I'm going."
Garnett said the fans "could do better" when asked overall how the crowd was afterward, and Deron Williams mentioned the early start time as being tough for folks in NYC.
That might be true, but it may be comforting for the Nets to know that all it takes is an intense display of emotion from some of their key players in order to work the fans into the required state of frenzy.