Troy Daniels always had his mind on the playoffs.
The Houston Rockets shocked Daniels by recalling him from the D-League on April 9. After all, his Rio Grand Valley were in the middle of a playoff series.
At least the Vipers had three days off between games, so Daniels tried to make the best of the situation and focused on Rio Grande's next postseason game the following Saturday.
"It was a big surprise. We didn't expect it during the playoffs," Daniels told Jonathan Feigen of the Houston Chronicle. "I think it will prepare me for Saturday, boost my confidence a little more, and have me ready for Saturday's game."
The night of his call-up, Daniels made 4-of-6 3-pointers in a loss to the Denver Nuggets, scoring a then career-high 12 points. He spent one more game with the Rockets, and afterward, they sent him back down.
Daniels scored 30 points for the Vipers that Saturday afternoon in Des Moines, Iowa. By Saturday night, he was playing for the Rockets in Houston and back in the NBA for good.
Safe to say, his playoff confidence has remained in tact.
Daniels – an undrafted rookie from Virginia Commonwealth who didn't sign an NBA contract until February, play in the league until March or play in the postseason until tonight – made the game-winning 3-pointer with 11 seconds remaining in the Rockets' 121-116 overtime win over the Portland Trail Blazers on Friday.
After dropping both games in Houston, the Rockets cut their series deficit 2-1 thanks to their surprising hero.
Daniels played just five regular-season games and not at all in Houston's first two playoff games, but he acquitted himself well during two stints of action during regulation. So, when Chandler Parsons fouled out in overtime, Kevin McHale turned to the little-used rookie.
For most of the extra period, Daniels deferred. But when James Harden – who called Game 3 the Rockets' season and then backed it up by scoring 37 points – lost his dribble in the final seconds, Daniels aggressively slid from the corner to the elbow and held his hands high above his head to give a passing target. Jeremy Lin scooped up the loose ball and kicked it to Daniels.
Daniels' first inbounds touch of overtime gave the Rockets their first win of these playoffs.
Not only did his shot put the No. 4-seed Houston squarely back in this series, it restored faith in the entire Rockets system.
Houston general manager Daryl Morey, an unapologetic believer in analytics, has always been a target for old-school thinkers. They dismissed his constant roster tinkering, questioned his team's complete negligence of mid-range shots and reiterated that stars – not numbers – determine NBA wins.
Well, Morey got the stars, trading for Harden before last season and signing Dwight Howard (24 points and 14 rebounds) this offseason.
But the Trail Blazers also have a couple stars in LaMarcus Aldridge (23 points and 10 rebounds) and Damian Lillard (30 points, six rebounds and six assists). If only the number of stars determined a game's victor, this one would have gone to infinite overtimes.
Instead, Daniels ended it by taking one of those 3-pointers the Rockets love so much. Daniels probably had room to step forward a couple feet and attempt a slightly easier shot – albeit one worth 33 percent fewer points. By scoring from beyond the arc, Daniels made the Trail Blazers easier to guard on the other end.
Nicolas Batum missed a potential game-tying 3 with Howard contesting his shot and every Rocket geared toward the 3-point arc. Harden then hit a couple free throws to seal the win.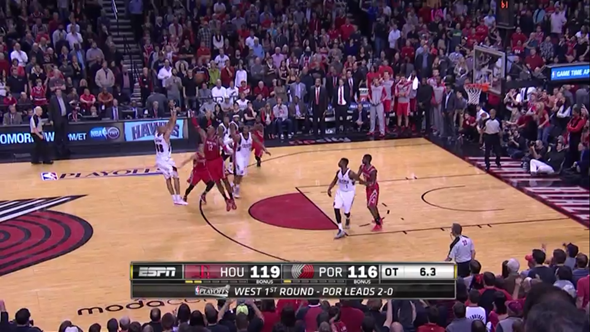 On the other hand, Portland's midrange maven struggled. After scoring 46 and 43 points in the series' first two games, Aldridge shot just 8-for-22 tonight.
By roaming from the paint, Aldridge exchanges volatility for an ability to shoot unencumbered by double teams. When he's hitting those shots, as he was in Games 1 and 2, he looks unstoppable. When he's not, as was the case tonight, he can sap his team's offense. Though the Trail Blazers scored well with Aldridge on the court tonight (112.3 points per 100 possessions), they scored even better with him off it (129.4).
Plus, by not venturing all the way out to the 3-point arc, Aldridge loses the extra-point-per-make protection that comes with his streakiness. There's a reason people like Morey don't like mid-range shots, even if Aldridge is one of the rare exceptions who justifies taking them at high volume.
And, of course, Morey's frequent back-end roster moves paid off. He even waived veteran Ronnie Brewer – a key piece for playoff teams in Chicago and Utah – to sign Daniels in March. Morey saw a player who made 40 percent of his 3-pointers while attempting nearly nine per game during his senior year at Virginia Commonwealth and then put him in a unique D-League system. It spit out this: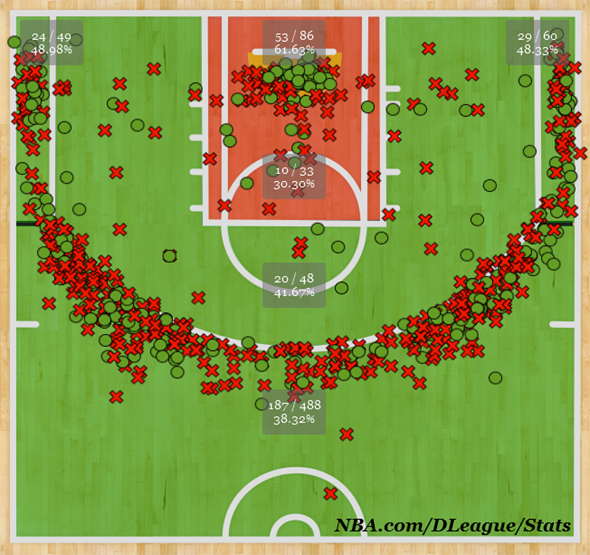 Daniels, who finished with nine points on 3-of-6 shooting (all 3-point attempts, naturally), is the postseason's most-unlikely hero. But the fifth-seeded Trail Blazers remain in an unlikely place, too – up 2-1 on Houston. Daniels extended the Rockets' season, but he hasn't guaranteed them anything other than a Game 5.
Momentum has swung, though. The Rockets blew an 11-point lead with eight minutes remaining, and they still left the court in smiles.
Numbers don't capture everything, and Troy Daniels – bred in Havoc, groomed in Hidalgo and beaming in the Rose City – showed that with every oversized joyous embrace he received from his teammates following the win that still leaves Houston trailing.