A few weeks ago, it seemed possible a knee injury would sideline Patrick Beverley for the entire postseason.
He returned late in the regular season and had nine points and six rebounds in the Rockets' Game 1 loss to the Trail Blazers on Sunday.
But, again, a knee injury threatens to end his season.
Somewhere, Damian Lillard's eyes just got big.
Lillard shot worse from the field with Beverley on the court relative to him off against Houston during the regular season (41 percent to 33 percent), and that held true in Game 1 (50 percent to 46 percent). But the bigger difference in the postseason opener came in Lillard's aggressiveness rather than his efficiency.
In 38 minutes with Beverley on the court, Lillard scored 18 points. In the eight minutes he played with Beverley on the bench, Lillard scored 13 points. That took a regular-season trend to a new extreme.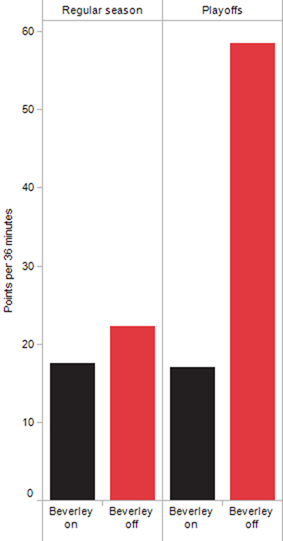 Jeremy Lin gave Portland issues with his dribble penetration, and James Harden often plays lead guard. But neither can provide what Beverley does defensively.
If Beverley misses any time – and it sounds as if anything short of his season ending would be a pleasant outcome – the Rockets will have even more trouble defending Lillard, who scored 31 points Sunday. The Trail Blazers made a habit of attacking Houston's weakest defenders, and it's possible the just found a new vulnerability.