LaMarcus Aldridge, Kevin Durant, Damian Lillard and Chris Paul – who will each get All-NBA, if not MVP, votes – are the only players to score as much as Jeff Teague in the opening games of the 2014 NBA playoffs
The Hawks point guard, who averaged a career-high 16.5 points per game during the regular season, burned the Pacers for 28 points in Atlanta's Game 1 win Saturday. He also scored 25 against Indiana in a regular-season game earlier this month.
So, the Pacers are searching for a way to contain Teague.
Michael Marot of the Associated Press:
All-Star Paul George acknowledged he's likely to spend at least some time defending Hawks point guard Jeff Teague on Tuesday night
"I would love to, just to change it up a little bit and give him a different look," George said after the Pacers practiced Sunday.

George said he and coach Frank Vogel discussed the defensive assignment Sunday, though Vogel declined to confirm the move or any other changes he might make now that the top-seeded Pacers trail Atlanta 1-0 in the first-round series.
Here's how Teague scored with each Pacer defending him in Game 1:
George Hill: 1.1 points per possession (16 points, 7-for-12 on 2-pointers, 2-for-2 on free throws, two turnovers)*
C.J. Watson: 1.0 points per possession (5 points, 0-for-1 on 2-pointers, 0-for-1 on 3-pointers, 5-for-6 free throws)
Paul George: 1.0 point per possessions (2 points, 0-for 1 on 2-pointers, 2-for-2 on free throws)
Lance Stephenson: 2.0 points per possession (2 points, 1-for-1 on 2-pointers)
Roy Hibbert: 0.0 points per possessions (0 points, 0-for-1 on 2-pointers)
*Teague also missed a 3-pointer while Hill left completely open to help on an another open player. I didn't assign that to any defender.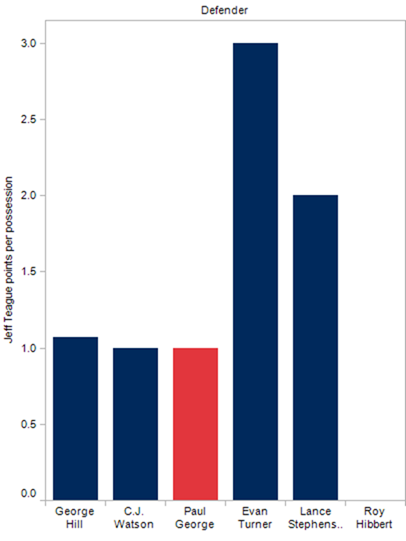 To some degree, I think the Pacers problems a matter of Hill not being on the same page as Hibbert. Hill didn't excel at keeping Teague in front of him, but when Teague passed Hill, Hibbert was rarely there to stifle the drive. Hill needn't singlehandedly shut down Teague, but he must at least funnel him toward Hibbert.
George could take a turn on Teague, and that might work, but who guards Atlanta's wings? Hill can rotate down to Kyle Korver or DeMarre Carroll, but that might cause its own problems. Do the Pacers want their best perimeter stopper (George) on Atlanta's hottest player, or do they want to preserve traditional matchups throughout the floor? It's a question with no easy answer, but Indiana must address it before a pivotal Game 2 Tuesday.