In NBA history, just two players have won a slam-dunk contest and also participated in a 3-point shootout: Michael Jordan and Brent Barry.
Jordan obviously gets his just due as the greatest player of all time, but I always thought Barry was overlooked. It's obviously rare players have both the athletic skills to dunk incredibly and the finesse skills to shoot incredibly, and Barry did. I appreciate the dichotomy.
Here's another way to measure that inside-outside duplicity of talent – and, spoiler, LeBron James laps the field.
Players have attempted at least 250 3-pointers in a season 1,122 times in NBA history. Just two of those times involved a player shooting better than 60 percent inside the arc: LeBron last season and LeBron this season.
Here are the top 50 2-point percentage seasons among players with at least 250 3-point attempts: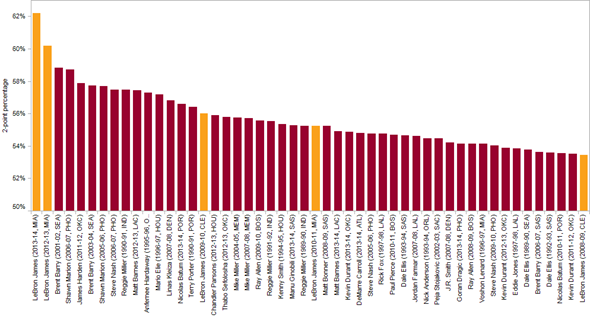 Announcement: Pro Basketball Talk's partner FanDuel is hosting a one-day $40,000 Fantasy Basketball league for Saturday's NBA games. It's $25 to join and first prize is $6,000. Starts at 12:30pm ET on Saturday. Here's the FanDuel link.
As you can see, LeBron also has three other seasons on the list, giving him five total. Nobody else has even four. (Five players – Reggie Miller, Kevin Durant, Steve Nash, Dale Ellis and the overlooked shooter/dunker Brent Barry – have three.)
LeBron's 3-point shooting does not gain volume by inefficient chucking. He shot 40.6 percent beyond the arc last season and 37.9 percent this season, both solidly above league average.
Inside the arc, he generates high-efficiency shots at the rim through drives and post-ups. A solid mid-range game bolsters his effectiveness.
Inside and out, LeBron dominates. There's no one quite like him.
Never has been.