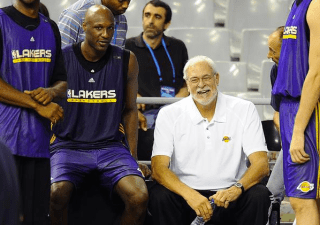 Phil Jackson made his first move as Knicks president of basketball operations, and it's one that's been reportedly in the works for the last few days.
New York signed Lamar Odom for the remainder of the season, a move that places him on the roster for exactly one game that will earn him a reported $8,500.
From the official release:
New York Knicks President Phil Jackson announced Wednesday that the team has signed forward Lamar Odom for the remainder of the season. Terms of the deal were not disclosed.

Odom, 6-foot-10, 221-pounds, holds career averages of 13.3 points, 8.4 rebounds, 3.7 assists and 33.4 minutes in 961 games (684 starts) over 14 seasons with the L.A. Clippers, Miami, L.A. Lakers and Dallas. He appeared in two games for Baskonia (Spain) this season and last played in the NBA for the Clippers during the 2012-13 season, averaging 4.0 points, 5.9 rebounds and 1.7 assists over 19.7 minutes in 82 games (two starts).
By signing Odom now, New York was able to add on a non-guaranteed team option for next season, which is really what this was all about.
The Knicks can work on getting Odom right both physically and mentally during the summer, and then evaluate his progress and his professionalism along the way before determining whether or not he's a fit for the team next season.
New York is likely to have plenty of different faces around in the immediate future, including almost certainly a new head coach. It remains to be seen whether or not Odom can make an NBA comeback, but all eyes will be watching given the fact that it's Jackson's first move — albeit a very minor one — aimed at steering the franchise in a positive direction.