With their 117-105 win over the Nuggets last night, the Clippers won their 57th game of the season – clinching a franchise record for winning percentage. It's a standard the Clippers have broken each of the last three years:
2013-14: 57-24 (.704
2012-13: 56-26 (.683)
2011-12: 40-26 (.606)
1974-75: 49-33 (.598)
The Raptors (48-33) already clinched their franchise-best mark, besting a couple 47-35 seasons (2000-01 and 2006-07).
Somewhat surprisingly, the Bobcats (42-39) can't break their franchise record – 44-38 in 2009-10.
But the Spurs (62-19) can if they beat the Lakers tonight. A 63-19 record would match their high-water mark in 2005-06.
That had me wonder: How many years feature three of the best records in a franchise's history?
So far, counting ties, three: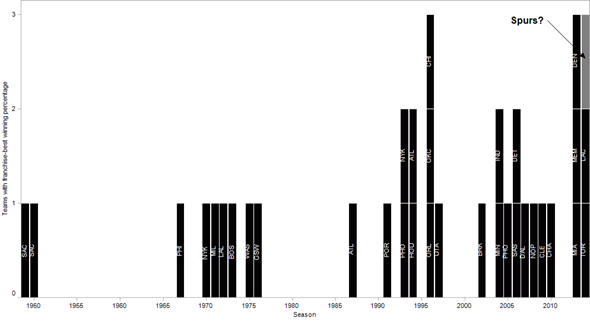 Last season, the Nuggets, Grizzlies and Heat had their best records ever. In 1995-96, the Bulls, Magic and Thunder (as the Seattle SuperSonics) saw their franchise highs.
Of course, more teams play now than ever. Before 1995-96, the Raptors never even had a chance to set their franchise high. That's why the results are geared toward 2004-05 and beyond, since the Bobcats have given the NBA 30 teams.
But I enjoy watching a team – and its fanbase – as it pursues new heights. Toronto has rallied around these Raptors, and the Clippers bandwagon is sure filling up. It doesn't matter to me whether the number of times it happens league-wide is influenced heavily by expansion.
It's just cool to see.