Carmelo Anthony is having, arguably, the best season of his career. He's battled nearly every game for a bad team, laying it all out on the line.
Even if Melo leaves New York in free agency this summer, he would have given the Knicks their money's worth this year.
How often does a star in obvious pain play his final games for a team already eliminated from the playoff race? Melo has every right just to call it a season.
Mike Woodson will try to make him do just that.
That Melo is even questionable is incredible. I don't know what he's trying to prove, but I commend him for it. My respect for him as a competitor has never been higher, and he's frequently raised the bar throughout the season.
Just look at what he's dealing with.
Here are Melo's win shares (blue) and his teammates' estimated win shares (orange)*: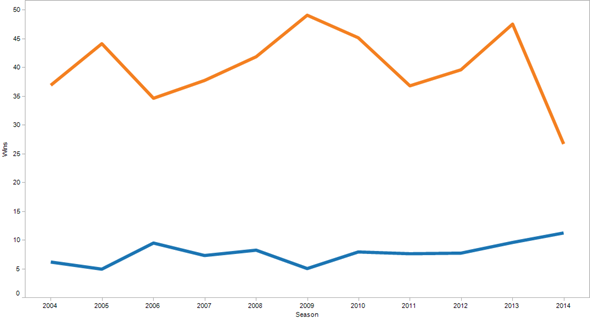 He has done more than ever this season as his teammates have done less.
*Teammates' estimated win shares are team wins minus Melo's win shares. All seasons normalized to 82-game schedule.
After they play the Nets tonight, the Knicks close their season against the Raptors tomorrow. There's no logical reason Melo should play either game.
But, obviously, that doesn't mean Melo is done.