BOSTON – "Do we have young-guy film today?" a player calls from the corner of the 76ers locker room.
Curious, I ask the 76ers' media-relations official what that is.
"What do you think it is?" he replies.
"I'd guess its film young guys have to watch," I say. "But, on this team, isn't that everybody?"
"Pretty much," Thaddeus Young chimes in.
The 76ers, carrying an average age of 23.4 (weighted for playing time and holding a player's age constant as of Feb. 1 each season), are the NBA's youngest team. Their youth permeates through their organizational culture, maybe even defining them more than losing has – though it's not as if those traits are mutually exclusive.
They have the sixth-youngest team of all-time. By comparison they have the relatively non-descript 51st-worst win percentage of all-time, and even if they lose out, that would drop only to 33rd-worst.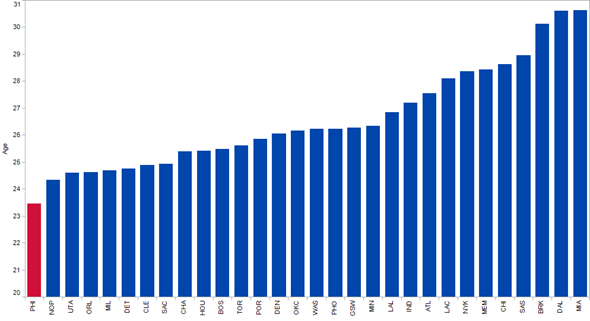 Philadelphia has only one player older than 26 – 33-year-old Jason Richardson, who has missed the entire season due to injury. Every other team has at least three players over 26.
So, when the 76ers hold young-guy film, it's essentially team film. Only Young and James Anderson, a fourth-year pro, are exempt.
Rookie 76ers coach Brett Brown implemented the film sessions as a way to provide extra tutoring for young players during an NBA season that includes little practice time, and he personally decided who must participate. He likes the system and would have used it with any roster, though had he taken over certain other teams, maybe only a couple players would have been required to attend.
In Philadelphia, it's become an essential tool.
Many coaches talk about loving the profession for the ability to teach above all else. But few competitors, which all NBA coaches are, would trade a good team (which requires fewer lessons) for a bad team (which requires more).
Brown doesn't have that option, and if he did, there's nothing to say he wouldn't exercise it. However, he has remained enthusiastic through Philadelphia's 17-60 season, demonstrating a real passion for serving the 76ers' youth.
"I love coaching these guys," Brown said. "They play hard. They play with their hearts on their sleeves."
Philadelphia's youngest player is 19-year-old Nerlens Noel, the No. 6 pick in last year's draft who has yet to play this season due to injury. League-wide, only Giannis Antetokounmpo and Archie Goodwin are younger.
Of 76ers who've actually played this season, 20-year-old Tony Wroten is youngest.
"You would never realize that I'm the youngest guy playing right now," Wroten said.
That's because Wroten spent last season with the Memphis Grizzlies. The guard has played more NBA games than anyone in Philadelphia outside Young, Anderson and Byron Mullens. At times, Wroten feels he should help the 76ers' six rookies, but it's a tough balancing act.
"I'm still learning too every day," Wroten said.
As are all the 76ers.
The players were recently discussing the oldest one on the team besides Richardson. Young thought it was himself. A lot of 76ers probably thought it was Young, too. Jarvis Varnado sure did.
But it's actually 26-year-old Varnado, who beat 25-year-old Young into this world by a few months.
Varnado and Young actually graduated high school the same year, but Young left Georgia Tech after only one season, and Varnado played all four years at Mississippi State. Their professional careers have followed similar tracks. While Young is in the midst of a five-year, $43 million contract, Varnado is already with his fourth team in two seasons, trying to extend an NBA career that didn't begin until two years after the Heat picked him in the second round of the 2010 draft. He signed with the 76ers on a 10-day contract before getting a rest-of-season-deal last month.
Never expecting to be the the oldest player on a team at this stage of his career, Varnado he likes the environment in Philadelphia nonetheless.
"We barely know the NBA," Varnado said. "So, we're just trying to go out there and trying to play hard. A lot of guys in here are trying to fight for jobs next year. So, we're trying to impress everybody."
And as far as his role as elder statesman?
"I haven't really felt old," Varnado said. "I'm around a lot of guys who are young guys, but I don't feel old, though."
Neither does Young, whom Brown calls the team's grandfather.
"I'm still relatively young," Young said. "It's just I've seen a lot more than they have in this NBA structure."
Including his veteran teammates traded.
The 76ers began the season with a few 25-year-olds – Evan Tuner, Spencer Hawes and Lavoy Allen – but they dealt all three at the trade deadline (Turner and Allen to the Pacers, Hawes to the Cavaliers). A separate deal with the Wizards netted Eric Maynor – who, at 26, is the oldest person to play for Philadelphia this season – but, per his request, Philadelphia waived him after just eight games.
That left Young as the only 76er with a history of quality NBA production, even generously counting a few small-sample seasons by his teammates.

Philadelphia is not young by accident, and those trades and buyouts are part of a long-term rebuilding strategy. In place of veterans like Turner and Hawes, the 76ers have turned to younger, cheaper and less-productive alternatives.
"It definitely tested my patience a little bit," Young said. "I was just dealing with so many young guys and them not knowing certain things.
"On any team, you want as many veterans as possible. It definitely helps out having a lot of veterans, because sometimes, younger players just don't know certain things."
But for all the downside, Young appreciates aspects of the 76ers' youth movement. He enjoys going fast – Philadelphia plays at the highest pace the NBA has seen in four years – and he's grown as a leader.
Though Varnado edges him by a few months in age, Young is the unquestioned face of the 76ers.
"He's had to carry a young team that is in a total rebuild mode, and he's endured that," Brown said. "He's found ways to compete and lead and not whine or cry about it. He's dug in."
Young has done so as the 76ers have gotten progressively younger, especially after the trade deadline. They were always headed toward one of the eight youngest seasons ever, but now they appear likely to close sixth.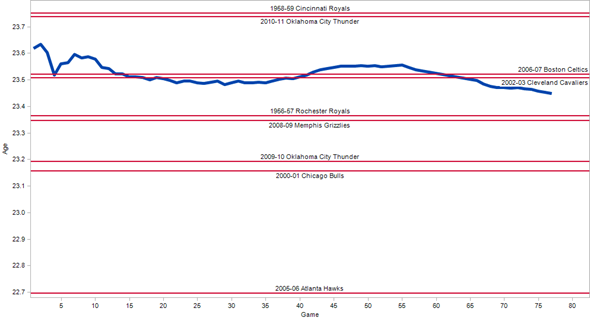 Perhaps, I'm overstating the 76ers' youth. After all, I'm counting their age in human years. Like dog years, maybe another measure – Sixer years? – is more appropriate.
On Jan. 29, the 76ers won in Boston. Their next game began a 26-game losing streak. During it, they traded Turner and Allen, traded Hawes, traded for Mullens, traded for Maynor, waived Earl Clark, waived Danny Granger, signed Varnado, waived Lorenzo Brown, signed Darius Johnson-Odom, waived Maynor and signed James Nunnally.
Finally, they returned to Boston this weekend and won again. Brown recalled Philadelphia's first victory over the Celtics, just 65 days prior.
"That," Brown said, "seems like a thousand years ago."