In a packed slate of 14 games tonight, five of which feature both teams legitimately jockeying for playoff position, Timberwolves-Heat does not stand out.
But the seemingly innocuous game is the Eastern Conference's best chance of beating a Western Conference team the rest of this season.
Just seven East-West games remain  this year:
Friday: Minnesota Timberwolves at Miami Heat
Saturday: Minnesota Timberwolves at Orlando Magic
Wednesday: Miami Heat at Memphis Grizzlies
Wednesday: Chicago Bulls at Minnesota Timberwolves
April 11: Philadelphia 76ers at Memphis Grizzlies
April 13: Oklahoma City Thunder at Indiana Pacers
April 16: Detroit Pistons at Oklahoma City Thunder
The East must win three of those games to avoid being the worst the NBA's worst conference ever as determined by record against the other other conference. Currently, the East is 163-280 against the West this season.
If the East wins two of the remaining games, it will tie its 2004 predecessor as the NBA's worst conference ever. If the East wins zero or one, it will rank alone at the bottom.
A caveat: The NBA didn't adopt conferences until 1971. Prior, the league had divisions that effectively served as conferences as we now them (only they weren't subdivided into separate units, as divisions do to conferences today).
With the exception of 1950, there was an Eastern Division and Western Division between 1947 and 1970. In 1950, the league had three divisions (Eastern, Central and Western) and held a round-robin playoffs.
Here are the win percentages of each conference – and before that, division – in NBA history: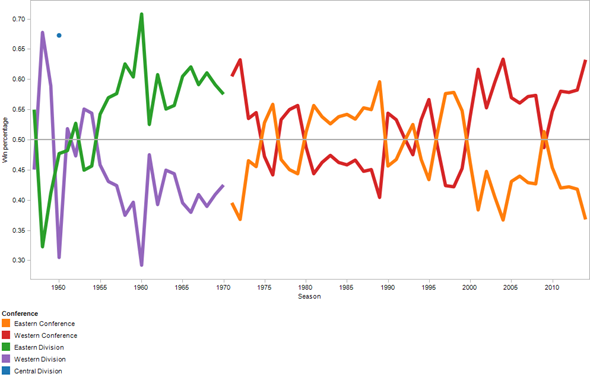 And here are the worst of the bunch:
1. 1960 Western Division: 42-102 (0.292)
2. 1950 Western Division: 50-114 (0.305)
3. 1948 Eastern Division: 31-65 (0.323)
4. 2004 Eastern Conference: 154-266 (0.367)
5. 1972 Eastern Conference: 125-215 (0.368)
6. 2014 Eastern Conference: 163-280 (0.368)
7. 1958 Western Division: 54-90 (0.375)
8. 1966 Western Division: 76-124 (0.380)
9. 2001 Eastern Conference: 161-259 (0.383)
10. 1968 Western Division: 98-154 (0.389)
So, the 2014 Eastern Conference can't fall below a few old-timey Divisions, even with an 0-7 finish. But since the NBA's major divisor became conferences, the 2014 East will go down as one of the worst of all-time.
The only remaining question is whether it will be the worst of all time.