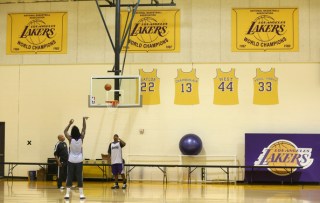 The Lakers announced an agreement to purchase land to build a new training facility, one that won't be far at all from where the team currently practices in El Segundo.
From the official release:
The Los Angeles Lakers announced today that they have entered into an agreement with CDC Mar Campus, LLC for the purchase of an approximately five acre undeveloped portion of the development known as Elevon at Campus El Segundo located in El Segundo, CA. The site is at the northwest corner of Mariposa Avenue and Douglas Street. The site is intended to be the future home of a brand new training center for the Lakers and its Development League team, the Los Angeles D-Fenders. The facility will also house the business operations offices for both teams. The completion of the purchase is subject to various conditions, including the approval by the City of El Segundo of the proposed use of the property by the Lakers.
It's baby steps with a project of this magnitude, one that will go through several stages of development before a target date for completion can be set.
L.A.'s current facilities are by no means substandard, but the team is renting the space in a building owned by AEG.
The new facility will not only be state-of-the-art to keep up with the fairly new one the Clippers have in Playa Vista, but it will also be one which is owned by the Lakers.