There's nothing wrong with trying to secure a No. 1 seed. The top seed gets homecourt advantage through at least the conference playoffs, and that's, um, an advantage.
But going for the No. 1 seed can take a toll, increasing pressure and exhausting a team through a long season. See Pacers, Indiana.
Gregg Popovich has a clear opinion on which approach is better.
Announcement: Pro Basketball Talk's partner FanDuel is hosting a one-day $70,000 Fantasy Basketball league for Wednesday night's games. It's $25 to join and first prize is $9,000. Starts at 7pm ET on Wednesday. Here's the FanDuel link.
Remarkably, the Spurs have more No. 1 seeds in the last 15 years than any other team, anyway.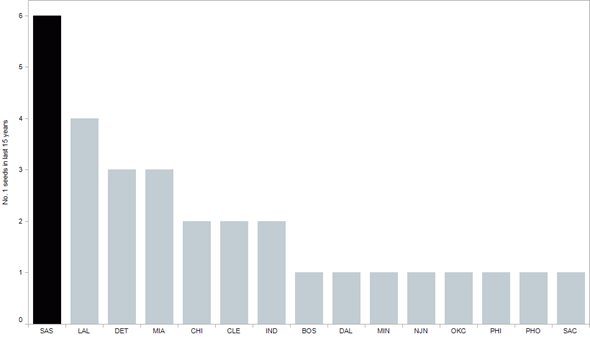 San Antonio as No. 1 seed in last 15 years:
2011-12: Went 50-16, lost to Oklahoma City Thunder in conference finals
2010-11: Went 61-21, lost to Memphis Grizzlies in first round
2005-06: Went 63-19, lost to Dallas Mavericks in second round
2002-03: Went 60-22, won NBA championship
2000-01: Went 58-24, lost to Los Angels Lakers in conference finals
1998-99: Went 37-13, won NBA championship
The Spurs, who lead the second-place Thunder by 3.5 games, are on the verge of receiving yet another No. 1 seed.
Quite the feat. And it's even more remarkable if you believe Popovich – and I do.
People sometimes underplay their motivations, making their accomplishments seem accidental – adding a level of humblebrag to increase the noteworthiness.
Claiming six No. 1 seeds in 15 years is impressive no matter what. Doing it when you're not trying to is better. That make it sound as if you can't help but win so much. Imagine what the Spurs could do if they were trying.
You can see why Popovich would embellish to draw more credit.
But all other evidence supports his claims. He famously rests his top players frequently, both limiting their minutes per game and even total games. And as Kurt recently wrote, "Gregg Popovich has reached the 'I don't care what people think' phase of his career… actually that might have started Day 3 of his tenure in San Antonio, but the coach is taking it to new levels lately."
This is the real deal.
The Spurs have the NBA's best record despite not setting out to get it. As other teams give maximum effort to win as many regular-season games as possible, the Spurs don't worry about that.
Just imagine what happens when they start trying in the playoffs.