The Portland Trail Blazers began the season a red-hot 31-9. Since, they've gone an underwhelming 17-18 – but that 35-game stretch has produced a better winning percentage than Portland had in either of the last two seasons. All success is relative.
Though Trail Blazers coach Terry Stotts is no longer the Coach of the Year favorite he once was, he'll still get votes for the award.
But what about a contract extension? Will he get that? Or even a chance to return?
Stotts has one season following this one remaining on his contract, a team option that has not been picked up.
Mitch Lawrence of the New York Daily News:
But let's just say that Stotts' staff is not feeling very good about its chances of returning after sliding down to fifth place in the West and in danger of finishing even lower.
Announcement: Pro Basketball Talk's partner FanDuel is hosting a one-day $45,000 Fantasy Basketball league for Monday's games. It's $25 to join and first prize is $7,000. Starts at 7pm ET on Monday. Here's the FanDuel link.
First of all, consider the source. Lawrence was last heard around here saying the Pistons were considering Isiah Thomas as their next general manager – a charge they credibly denied. But Lawrence also said the Bulls wanted to trade Luol Deng before it happened. Let's just say the New York tabloids, including the Daily News, employee some talented reporters but are also looser on what they'll publish than many other newspapers.
Next, consider Lawrence's source. He's not saying how management feels. He's saying how the coaching staff feels – maybe for good reason, maybe for not.
George Karl won Coach of the Year last season, and he got fired by the Nuggets. Lionel Hollins took the Grizzlies to the Western Conference Finals, and they still pushed him out. Those two departures were so stunning, hardly anyone remembers the Hawks dumping Larry Drew, who took Atlanta to the playoffs each of his three years on the job, even winning a series despite never being the higher seed.
It would be completely understandable for coaches, even good ones, to feel paranoid about being retained.
What would not be understandable is Portland casting off Scott, who has helped end the Trail Blazers' four-year slide in winning percentage and guaranteed they'll finish with their best record in at least three years – despite slipping lately.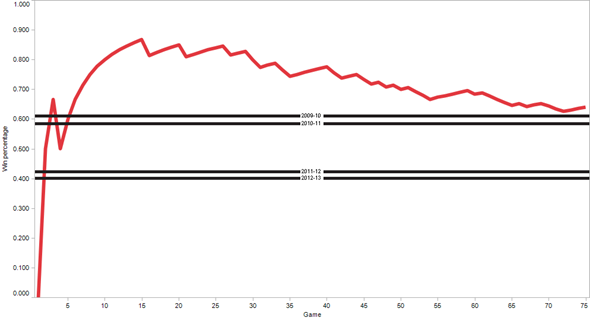 Chris Haynes of CSN Northwest provides some much-needed levity and clarity:
There have been no extension interchange up to this point, nor has there been any discussion on exercising his option.

How does a coach who has exceeded all expectations not have a deal in place for next year? It's really not that uncommon and it means very little in the grand scheme of things.

General Manager Neil Olshey has a stern policy that he has adopted dating back to his Clipper days that goes for both players and coaches: He will not engage in contractual dialogue until after the season is completed.

This means decisions on options and extensions will be made in the offseason, allowing the necessary cooling off period from a vigorous 82-game season to fully evaluate the all-inclusive body of work.
Stotts must earn his option being picked up. Maintaining the status quo, even the recent standard, should be enough. The Trail Blazers limping into the playoffs and getting swept in the first round would still shatter expectations for them this season.
The Trail Blazers have flaws, no doubt. They've been on clear display lately, and it's up to Stotts to shore them up.
He should – and I suspect he will – get the chance to do so next season.