BOSTON – The Memphis Grizzlies chose Kyle Lowry in the first-round of the 2006 draft, and then they traded him just two-and-a-half years later. Memphis picked another point guard in the first round of the 2010 draft: Greivis Vasquez, who made it only one season with the Grizzlies before they traded him.
Now, Lowry and Vasquez are united with the Toronto Raptors, bonded by the shared experience being drafted then quickly traded by Memphis.
"It's kind of like we knew we knew each other from that," Vasquez said.
On the court, they certainly play like they've known each other for years. Since the Raptors traded for traded for Vasquez in the Rudy Gay deal, the two point guards have played 414 minutes together with stellar results:
Offensive rating: 108.3 (3.1 better than Toronto's season mark)
Defensive rating: 94.7 (6.8 better than Toronto's season mark)
Net rating: +13.6 (10.0 better than Toronto's season mark)
No Eastern Conference duo has played together that much and produced such a high net rating this season.
"It's just natural," Vasquez said. "It's spontaneous. There's nothing forced. We just have good chemistry together, and we play great basketball together."
Offensively, their impact is felt most by Toronto's bigs, Amir Johnson and Jonas Valanciunas. Both score better, by volume and efficiency, in Lowry-Vasquez lineups compared to other units, according to nbawowy.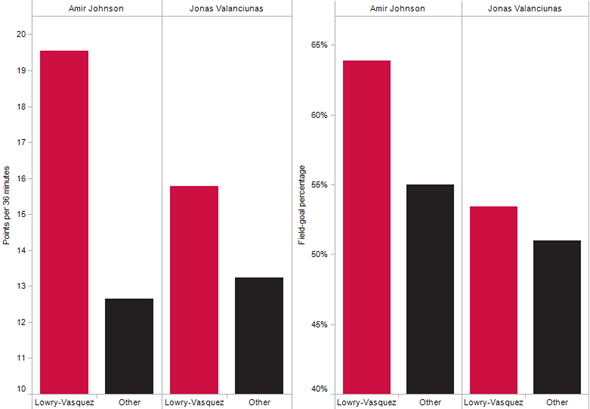 How do Lowry and Vasquez collectively lift the bigs?
"Pick-and-rolls," Johnson says enthusiastically.
That simple?
"That's the threat," Johnson said. "Pick-and-rolls, man."
Johnson and Valanciunas are both two of the NBA's better pick-and-roll screeners, and they're taking advantage of playing with Lowry and Vasquez. Johnson, a ninth-year pro, said he's never played so much with two point guards simultaneously.
"Not quite like this, when you have two guards on the floor that are threats," Johnson said. "It's just so dangerous. When you swing the ball, I can go set a pick-and-roll with Vasquez. If you swing it, I can go set a pick-and-roll with Kyle and attack. And then you've got shooters. It's kind of a good weapon."
Having two point guards who can throw entry passes also helps Valanciunas' post-up game. Lowry and Vasquez can throw the ball around the perimeter, quickly changing entry-pass angles that become difficult to defend.
"They see the floor," Valanciunas said. "It's easy for me to be under the basket, represent myself."
And that's just in the halfcourt.
Lowry and Vasquez significantly push the pace, generating many more fastbreak points than the Raptors usually get. (Johnson said he's always looking to screen for the point guards when they play together, even in transition or after a play breaks down.)
With two guards capable of breaking down defenses and forcing opponents to rotate, the Raptors also offensively rebound better. And defensively rebound better, too – which is where this gets tricky.
The Lowry-Vasquez combination impacts Toronto more defensively than offensively, but Raptors coach Dwane Casey and his players say the scheme doesn't change when the point guards play together.
Vasquez, who's 6-foot-6 but slow for his position, defends shooting guards better than he does point guards. So, that helps.
And Lowry can pester to opposing shooting guards, who might not be used to such a ballhawk guarding them. The Raptors do force more turnovers with Lowry-Vasquez lineups.
But the more significant difference* is how much better Toronto defends the mid-range and corner 3s when Lowry and Vasquez play together.
*The Raptors also get to the free-throw line and send their opponent to the free-throw line much more often when Lowry and Vasquez share the court. But 42 percent of their minutes together come in the fourth quarter and overtime, when foul rates increase anyway. Lowry and DeRozan have nothing to do with teams intentionally fouling because they're trailing late. And if you're wondering, intentional fouls don't tell the whole story of the Lowry-Vasquez offensive boost, because lineups with that backcourt score better in the first half than the second.
Here's the effect Lowry-Vasquez lineups have on opponents' shooting. The slide with more shot attempts is overall, and the slide with fewer shot attempts is when Lowry and Vasquez share the court:
What changes? Touch to discern a tactile difference, but maybe the Raptors just better contest jumpers when they're getting on the fastbreak more and scoring more efficiently on the other end. Energy can be contagious.
As can quality play. Lowry shrugs off the notion that he and Vasquez have solved any major issues the Raptors face in other lineups.
"It's easy to play with another point guard," Lowry said. "G is an unbelievable playmaker. He knows the game, knows how to play."
Lowry could be speaking for himself there, which is exactly why this pairing works so well.