LeBron James put Michael Jordan, Larry Bird, Magic Johnson and Oscar Robertson on his NBA Mount Rushmore. And he said someone would have to come off to make room for himself. So, we're already up to five players.
But what about Wilt Chamberlain and Bill Russell?
Another all-time great who at least belongs in the discussion, Kareem Abdul-Jabbar, takes up their cases.
Abdul-Jabbar, via Mark Medina of the Los Angeles Daily News:
"LeBron James was talking about how he's the best ever, but he never saw Wilt play," Abdul-Jabbar said. "If he had, he wouldn't say that. Whenever he averages 55 points a game, then I might want to listen to what he has to say. I'm not trying to put LeBron down. He's awesome. He's the best player in this era at this point. But he didn't see Bill Russell play. When his team wins eight consecutive NBA championships, maybe I'll compare him to Bill Russell."
LeBron is quickly climbing the list of all-time greats, but he's passed neither Chamberlain nor Russell. Chamberlain and Russell are two of the best players in NBA history, and they're rightfully remembered as such. They've also completed their careers.
LeBron deserves a chance to pass them as he keeps playing. If Abdul-Jabbar sets the standards, though, he never will.
LeBron can't compete with numbers produced in another era.
Yes, Chamberlain scored 50.4 points per game in 1961-62 (shy of the 55 Abdul-Jabbar credits him for) – in large part (literally) because he was ahead of his time. In his first season, the NBA had only one other 7-footer, Walter Dukes. Only one season in Chamberlain's career did more than half his opponents have a single 7-footer.
Now, there are 40 7-footers in the NBA.
Here's how far the number of 7-footers per team during Chamberlain's career (purple) fell short of the bar set this season (gold):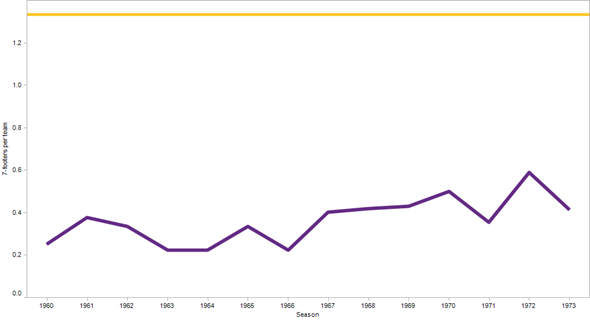 LeBron has a tremendous physical advantage over his opponents. His combination of size, speed and agility is unmatched in NBA history. But it doesn't compare to Chamberlain's advantage.
Russell too had a era-related advantage. During his run of eight straight titles, there were eight or nine teams in the NBA. Now, there are 30.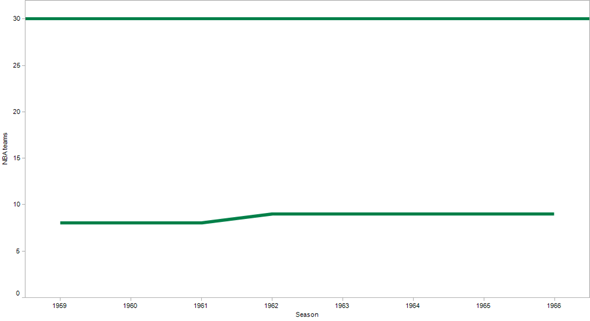 Beating a field of 30 for a championship is, all other factors equal, more impressive than beating a field of eight or nine.
Numbers are a valuable tool in ranking players, but it's never easy to compare eras. Using the numbers as Abdul-Jabbar does – insurmountable bars – gets us nowhere.
It wasn't always better back in the day. It was just different.