Jeff Green scored 39 points Sunday, making him one of just nine players to score that much multiple times this season.
The other eight – Kevin Durant, Carmelo Anthony, Kyrie Irving, LeBron James, Kevin Love, James Harden, Stephen Curry and Blake Griffin – were all All-Stars.
But in the game before his most-recent 39-point outing, Green did something none of those eight did: score single digits. And in the game after his-most recent 39-point outing, Green did something none of those eight did: score single digits.
Nine points last Thursday, 39 Sunday, five Monday.
He played more than 35 minutes in all three games, too, so it's not a lack of opportunity. This is just who Jeff Green is.
He's scored 25 points a dozen times this season. And he's scored single digits another dozen times.
Nobody else with as many 25-point games has so many single-digit games.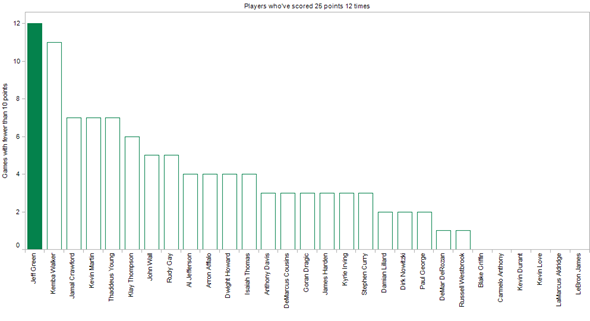 No matter how you slice it, Green scores inconsistently.
Just don't tell him about it.
Green, via Steve Bulpett of BostonHerald.com:
"I'm playing," Green said. "I mean, that's all I care about. I'm healthy.

"I can care less about what other people have to say about my performance. You know, everybody's entitled to their own opinion, so I really don't pay attention to it. I'm just trying to come into each year being healthy and being able to play this game."
Just as he can't shake the expectation of others that such nights should not be a part of his profile. The suggestion has been made that viewers don't understand how difficult it is to scale the scoring heights.

"Of course," Green said. "They don't know, because they haven't been through it. That's why I say I can care less what people say. They can talk and say whatever they want to say. You know, I don't give a (expletive). It don't bother me."
Announcement: Pro Basketball Talk's partner FanDuel is hosting a one-day $95,000 Fantasy Basketball league for Friday night's games. It's $25 to join and first prize is $10,000. Starts at 7pm ET on Friday. Here's the FanDuel link.
I really see Green's point of view on this.
He missed the entire 2011-12 season due to a heart condition. Many thought he'd never play again, but he's played every game this season and last. That's the most important type of consistency for him.
And those who say they want him to score more consistently really don't. Few really care how frequently he comes near his 17.0-point-per-game average (a career best, by the way). They just want him to reduce his low-scoring games while maintaining his high-scoring games.
That's not becoming more consistent. That's getting way better.
It's fair to hope Green improves, but don't conflate that with Green becoming more consistent. Most fans actually want only the former.